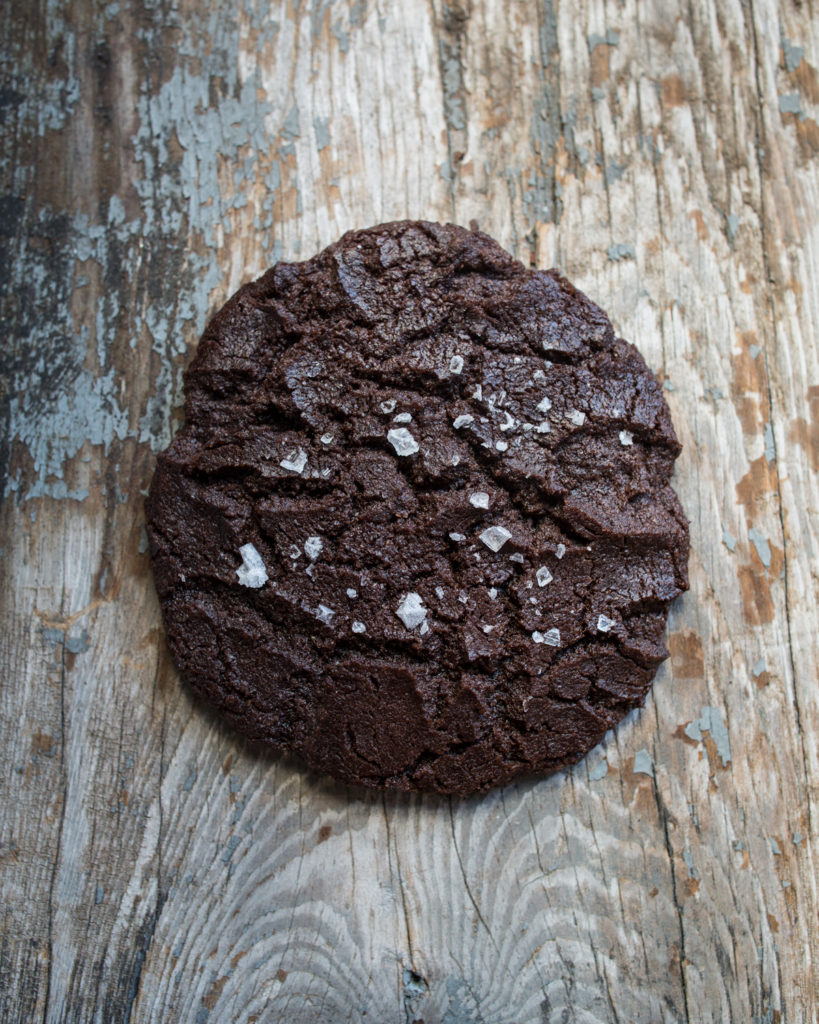 Ok, so the first time I had this dark chocolate-olive-oil-cookies was at Levee Baking Co. here in New Orleans. Christina is a friend and has always inspired me. Her bakery has some of the absolute best breads and pastries here in the Big Easy. Funny enough, I actually didn't get into making my own sourdough until she came over one day and brought me some of her starter. It was then that my life changed forever because she taught me a basic sourdough bread recipe. Since then, I have been making sourdough 2-3 times a month and I absolutely love it. But that's not why we are here today. We're here to talk about a cookie. A salted dark chocolate olive oil cookie to be exact. Drooling yet?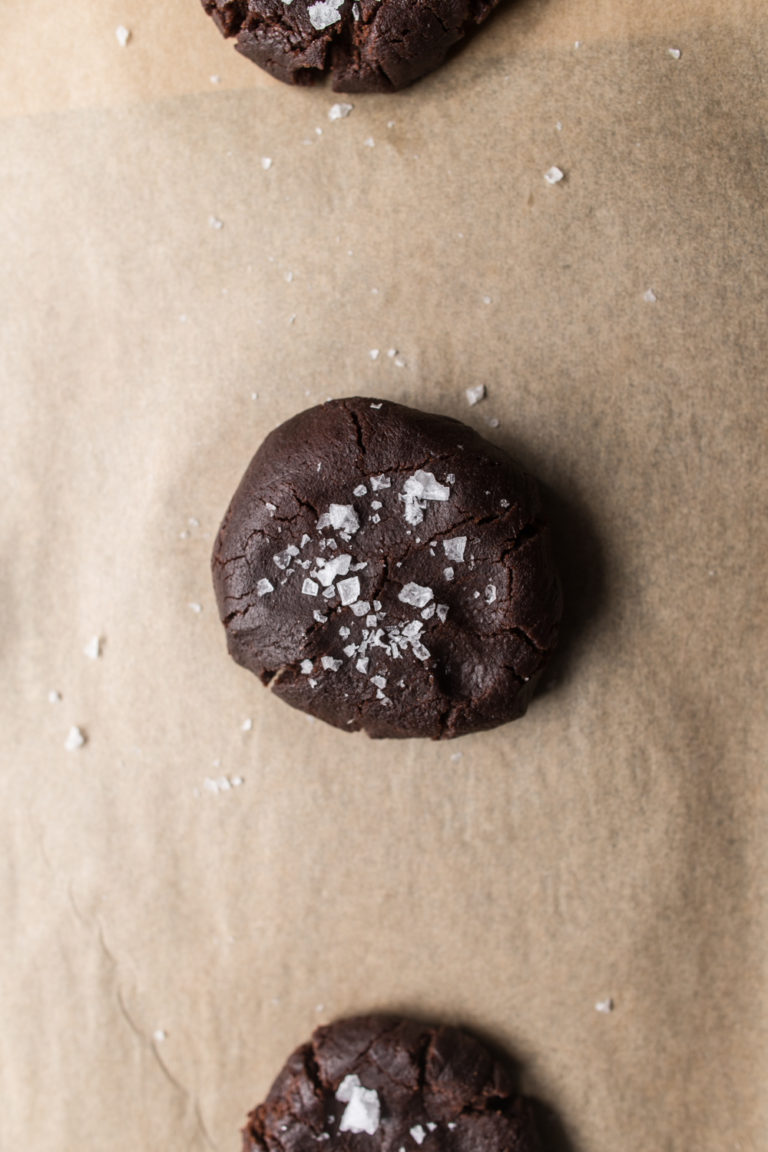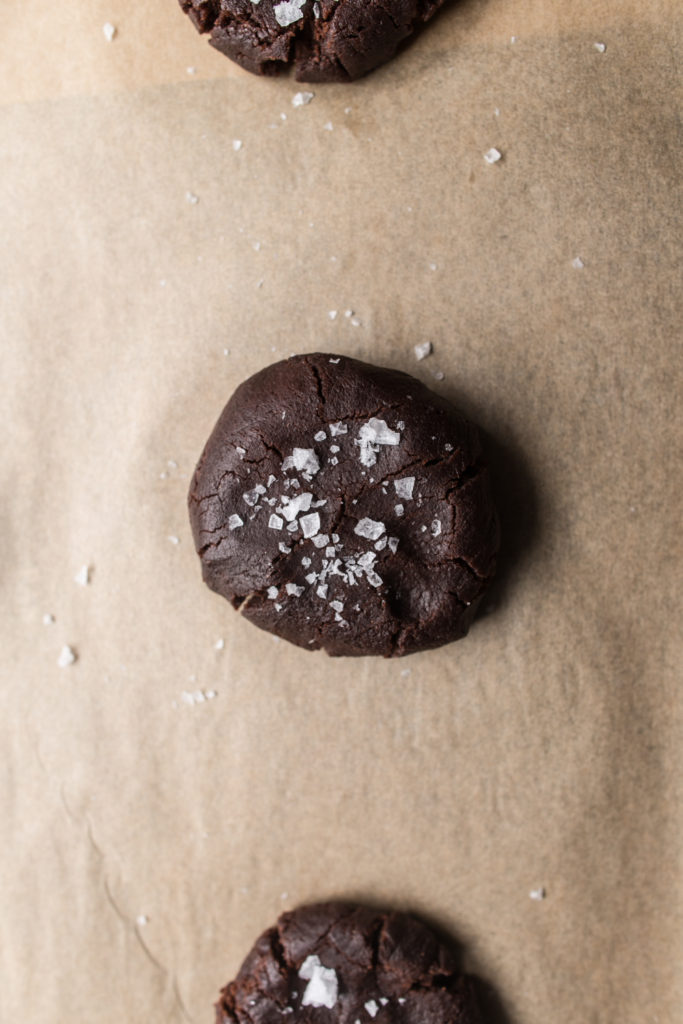 Going back to when I first had this cookie, upon my first bite my eyes rolled into the back of my head and I squealed. My mouth was overwhelmed with a crispy, chewy texture that was rich and oh so chocolatey. Large chunks of flaky salt melted onto my tongue, intensifying the flavor. It was decided at the moment to be my favorite cookie ever. And it still is.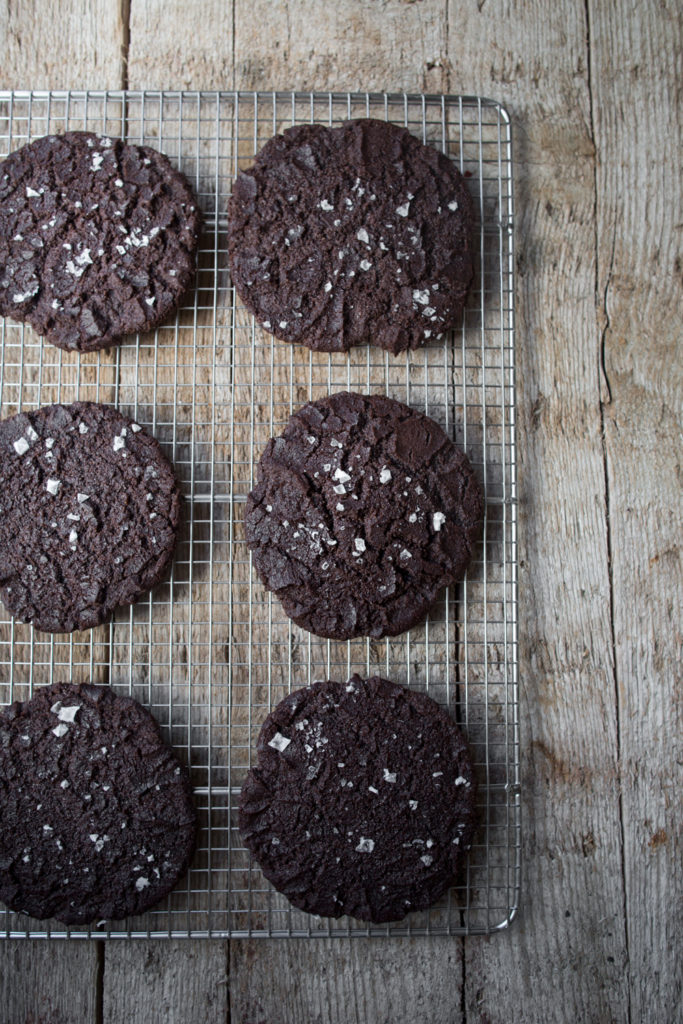 Luckily, Christina agreed to let me share her recipe on the blog for all of you! I did make just a few tweaks because you know I can be fussy if I don't have my way, but the recipe is very similar to the one she currently serves at the bakery. I added some coffee because Ina Garten taught me that trick when I was a teenager (it brings out the flavor of the chocolate in a big way.) Also added just a dash of almond extract because I just can't help myself. You don't really taste it but it's definitely there.
What else… oh yeah, I like to make mine on the bigger, thinner, crispier, and chewier side. So I like to divide the dough into 12 big cookies and bake for 16 minutes. Of course, you could go smaller but I think these work really well when they are big and impressive. I also decided to omit the chocolate chips but I have made that an option in the notes. This just depends on how much you like chocolate! Lastly, don't skimp on the flaky salt. It's what makes the cookies.
Big thanks to Christina from Levee Baking Co. for letting me share this chocolate olive oil cookie recipe. Definitely give her a follow on Instagram, her feed is gorgeous. If you do make the recipe, let me know, and please leave a comment below.
Happy Holidays!
-t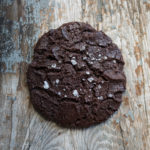 Ingredients
1 tablespoon ground flaxseed (regular or golden)
¼ cup full-fat oat milk 
2 tablespoons black coffee (left-over or cold-brewed)
2 cups all-purpose flour
¾ cup cocoa powder, dutch-processed  
1 teaspoon baking soda
½ teaspoon sea salt
¾ cup olive oil
2 cups sugar (vanilla infused if you have it!)
2 teaspoons vanilla extract   
⅛ teaspoon almond extract
Flaky salt, for topping cookies
Instructions
In a large mixing bowl, combine flaxseed meal, oat milk, and coffee. Mix well and set aside.
In a medium bowl, sift together the flour, cocoa powder, baking soda, and salt. (When measuring the flour, fluff it up with a fork and then scoop it into a measuring cup using a spoon.) Set aside.
Now that the flax mixture is ready, in the same bowl, add in the olive oil, sugar, vanilla extract, and almond extract. Mix well. Slowly add the dry ingredients, a few scoops at a time. Do not overmix. 
Once the mixture is combined, mound into a ball and shape into a rounded rectangle. The dough should be cohesive and shiny. You should easily be able to form it into a ball at this point. Wrap tightly with plastic wrap and chill in the fridge for at least 2 hours (or up to 3-4 days).
When ready to bake, preheat oven to 350 degrees F and line one large baking sheet with parchment paper. Remove dough and cut into 12 even squares. Using your hands, round individual squares into thick circular discs.
Place the discs on the baking sheet and gently press down with your fingers. (Refer to the image above to see how!) These cookies will spread and need a good amount of space so only bake off 6 at a time, in batches. Once flattened, generously sprinkle some flaky salt on top. 
Bake in the center of the oven for 16 minutes for a crispy, chewy texture. If you want them a little more gooey, try 14 or 15 minutes. You can also opt to not flatten them as much as I do for an even more gooey interior.
Let the cookies sit on the pan for about 2 minutes. Then, using a very thin spatula, carefully transfer the cookies to a cooling wrack. Let cool for a few minutes and enjoy! 
notes
You could totally add some different toppings here. The original recipe has pistachios but I've also tried using walnuts and it was fabulous. Crushed up peppermint sticks would make for a lovely holiday addition!

If you'd like to make these cookies even more chocolatey, add ¾ cups of dark chocolate chips to the batter when mixing.

I find that these cookies taste better after the dough has had a good amount of time in the fridge. I usually will bake off half of the dough after 2 hours of chill time and then bake off the rest over the next 2-3 days. I've even baked them off after 4 days of being in the fridge and they were outrageous