The time has come my lovelies, my White Truffle Macaroni and Cheese is finally here. Now, if you've been paying close attention, you might have noticed that I made this variation over Thanksgiving last year and I had quite a few of you ask me to share the recipe. Fast forward four months later, you can imagine how good it feels to finally share it with you; I took my time fine tuning it and now I can honestly say it's perfect and ready to go.
This recipe is very similar to my traditional mac and cheese, which is another popular blog recipe . The main difference is I cut back on the water and removed the cornstarch. The results are still thick and creamy, although I love what the cornstarch adds to the original texture, I also wanted to try a version without it and I think it is just as delicious. I also added a carefully selected group of powerhouse ingredients to elevate the flavor of the dish to be over the top and decadent.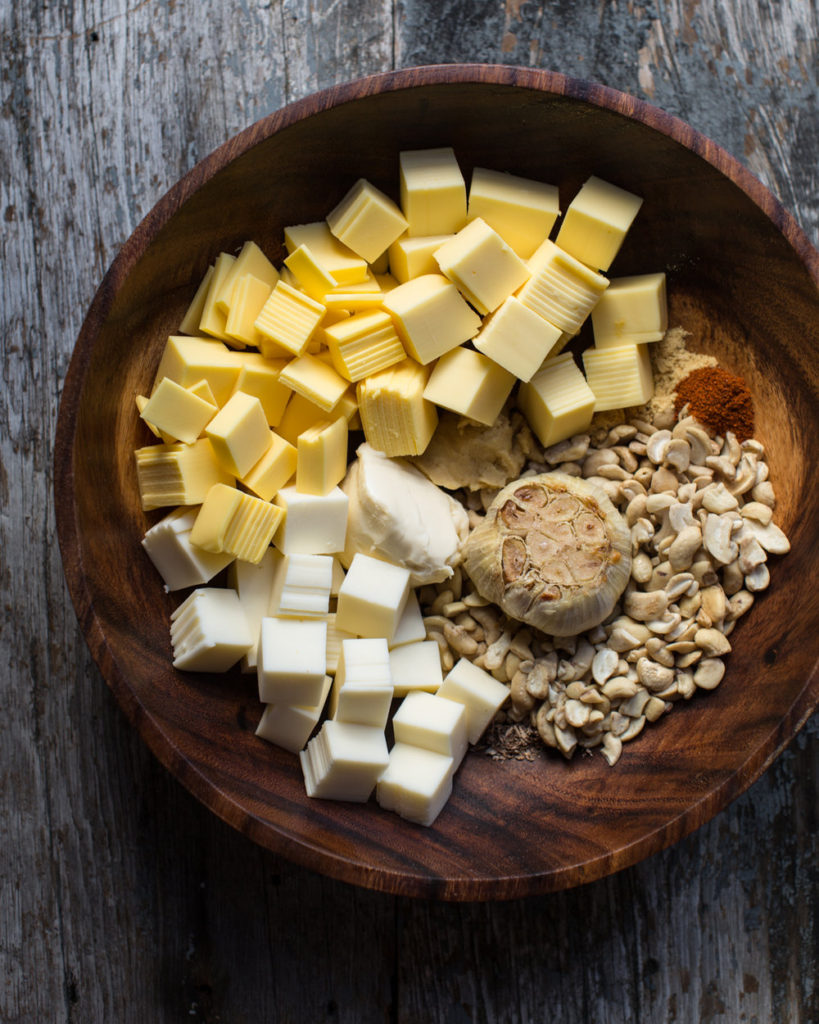 The two most important ingredients to this newly revised recipe are: white truffle oil and roasted garlic. What I am about to say is very important, so listen up! You must invest in some good white truffle oil. This specialty oil is expensive and it should be. It is infused with an incredibly expensive, fragrant, and highly desirable mushroom that grows wild and underground. It is one of the most exquisite ingredients humans have to consume. I do not want any eye rolls when you see the prices for different bottles on the market.
First, truffle oil lasts a long time because you don't need that much for big results. Think of it as a finishing oil. Second, it's a treat. You shouldn't be dousing everything you eat in truffle oil. Think of it as a nice bottle of wine or expensive candle. Be conservative. (Unless you're rich and then I guess it doesn't matter. Show off.)
My favorite truffle oil is no longer available so I am on the hunt to find a new one that I love. I have used this one from Amazon and I think it's good for now. My tip is to look for bottles in specialty kitchen stores- they usually have the good stuff. Another trick to finding the best white truffle oil is to smell it. When you open a bottle of good oil, it should hit your nose intensely and make your eyes roll into the back of your head. Smelling and consuming fragrant white truffle oil is a sensual experience. Do note that this oil is not intense like say, a spoonful of soy sauce or hot sauce. It doesn't explode on your tongue like that. It is more of a deeply aromatic experience than anything. Take your time while eating and savor it.
If you think you can get away with using black truffle oil- think again! White truffles are more flavorful and aromatic. This makes them more expensive and thusly, the oil is more expensive. Don't worry tough, this recipe only calls for 1 to 2 tablespoons, so even if the bottle is really nice, it should only be around five dollars worth.
As for roasting the garlic, it is so easy! Please trust me on this, no meltdowns if you've never done it before. There are literally a dozen ways to do it. The basic idea is to slice the tip of the garlic head off to reveal all of the cloves, drizzle with olive oil, wrap or cover with foil or baking vessel, and roast until the cloves are golden and caramelized. You can check out the many ways to do that here.
For this White Truffle Macaroni and Cheese recipe, I chose to go with small shells with ridges. I feel as though this recipe is for a special occasion and because it uses such an expensive ingredient (i.e. truffle oil), the shape and feel should be fancy, too. You can use whatever noodles you like, but if you want to be cool like me- stick with the small shells.
When making the cheese sauce, please remember to blend the cashews and water FIRST. If you add everything at the same time, your blender will have a very hard time making everything velvety smooth. In fact, it might not even be able to blend up those cashews to the desired consistency. Follow the recipe as written and make the cream first. You will thank me later.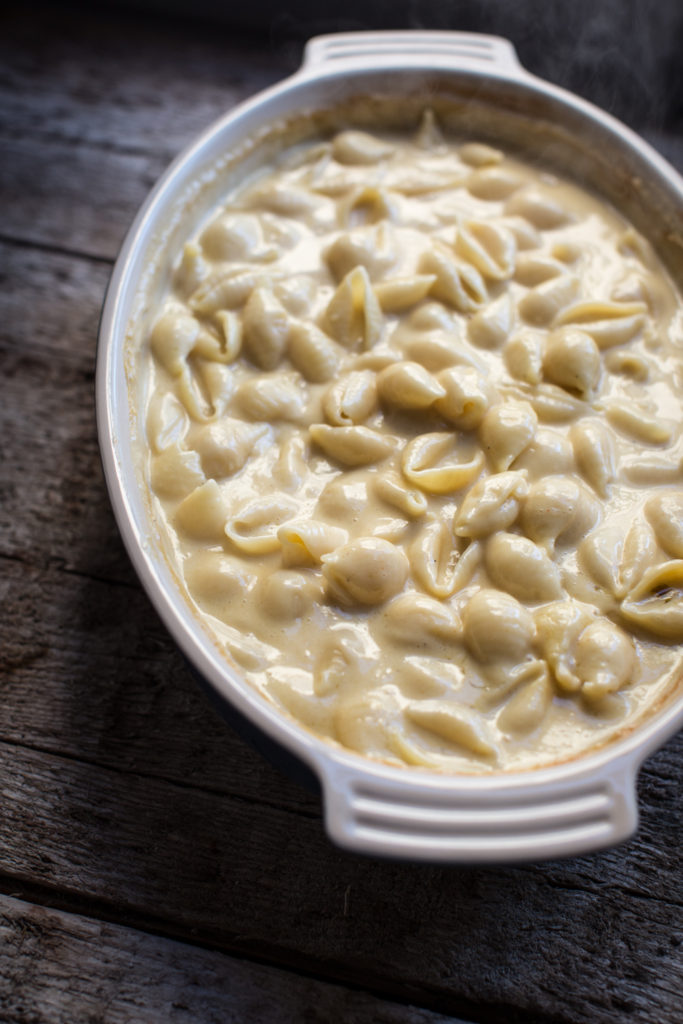 If you are allergic to nuts, you can use any desired plant-based milk (as long as it's vegan or it won't work). This may change the texture of this (making it not as thick) and I have not tested it but my gut tells me it should be just fine. I've used shelled hemp hearts before (instead of cashews) and it was okay. The flavor was sort of grassy from the hearts, which isn't ideal, but for all you nut allergy people- you understand. Sorry, folks.
I hope you all enjoy this recipe! If you make it, please let me know in the comments and/or tag me on Instagram. I love seeing your creations. And most importantly, have fun and order white truffle oil today! Happy cooking!
–Timothy
Ingredients
1 (16 ounce) pack small pasta shells or desired noodles, plus water + salt to boil
1 cup raw cashews*
3 cups filtered water
1 pack vegan provolone or gouda slices (7 ounces)*
1 pack vegan mozzarella slices (7 ounces)*
1 pack vegan white aged cheddar slices (7 ounces)*
¼ cup vegan butter
⅛ teaspoon nutmeg
2 tablespoons miso (chickpea, mellow white, or sweet miso)
1 teaspoon dry mustard powder
1 head roasted garlic
¼ teaspoon cayenne pepper
1 - 2 tablespoons white truffle oil
Instructions
1. Preheat the oven to 375 degrees F and begin roasting head of garlic.
2. Fill a large pot with water and a healthy sprinkling of sea salt. Bring to a boil and add the noodles. Boil for about 5 minutes, until they are al dente (remembering it's ok if they are slightly firm because they will cook more in the oven, so no need to worry). Drain with a colander and transfer to a 9" x 13" baking dish (this recipe will just fit in that!) or desired baking vessel. Set aside.
3. In a high-speed blender, add the cashews and water and blend until smooth and creamy. This should take a minute or two. Add the chopped cheeses, butter, dry mustard, nutmeg, miso, peeled roasted garlic head, and cayenne pepper. Start by blending on low and gradually turn up the speed, until you are left with a smooth and creamy sauce, scraping down the sides and moving everything around as needed (please work with your blender, help it out and don't give it a brain aneurysm). If using a smaller blender, divide the cashew milk in half and try making the sauce in two separate batches.
4. Pour the cheese sauce over the noodles in the baking dish. Mix well.
5. Bake in the oven, uncovered, for about 30 minutes, until the edges are slightly golden and the cheese is thoroughly melted. Remove from the oven, pour on truffle oil, and stir with a large spoon. Let stand for 10 minutes. Serve immediately.
notes
For the miso, I recommend a pale, more mellow miso. The darker ones are too robust for this recipe, IMO.

If you are not using a vitamix, you may need to soak the cashews in boiling water for a few minutes to soften them.

Hot Tip! At the very end, turn the oven broiler on and place the baking dish on the top shelf. Watch it closely and it will begin to brown and look gorgeous (only a few minutes). Once desired color is achieved, remove and enjoy.

PLEASE STIR AND KEEP CALM. I know someone who made a recipe video of this mac and cheese and she ate it right out of the skillet without mixing or letting it sit. She then mentioned it tasted better after it sat out for a while. HeLLo! That's what the recipe says to do, booger! By mixing and letting the dish sit, it becomes thicker and creamier. And believe me you will be rewarded for your patience!

I like using Chao cheese or Violife for this recipe.