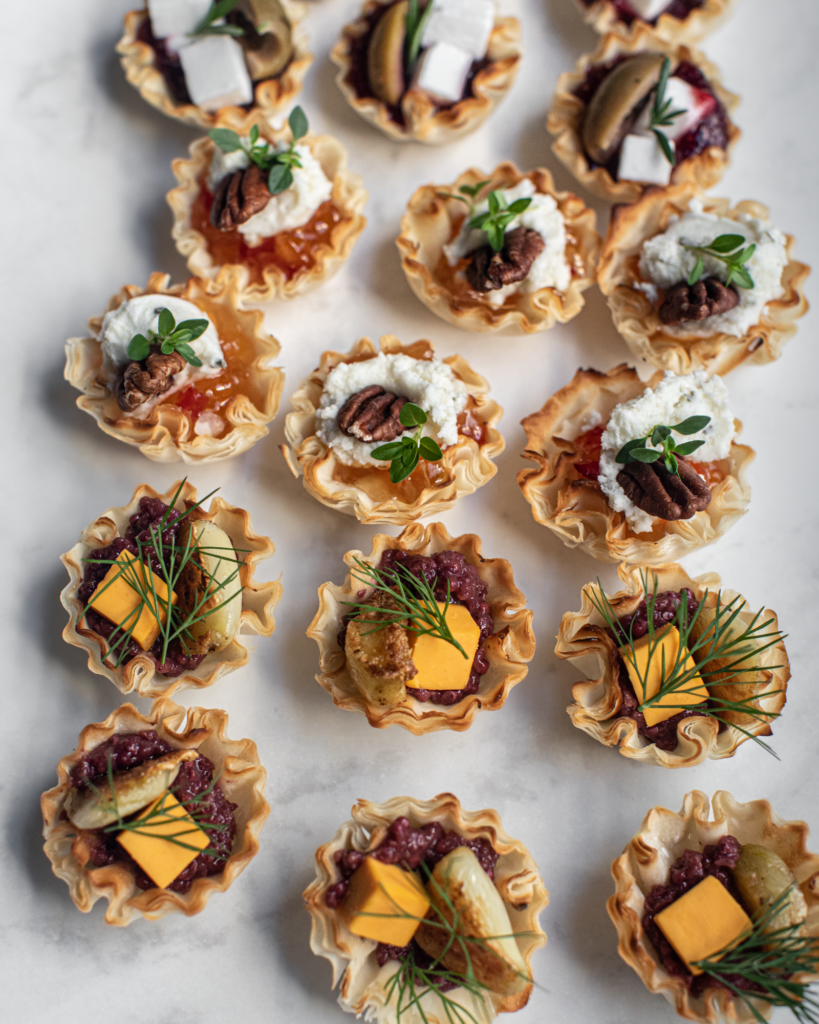 Hello and welcome to my little take on Phyllo Cups: an elegant hors d'oeuvres! In today's post, I will be breaking into my homemade canned goods. I have made these over the summer and fall. I will be showcasing them with different toppings in delightful cups of crispy phyllo pastry. You can find these cups in the freezer section of any grocery store. They are an incredible hack for the holidays as you can make a fabulous appetizer within minutes by using them. They come together quickly, are hand-held, and the variations for them are endless. Today I will show you 3 different ways to make them. I hope they inspire you to have fun in the kitchen!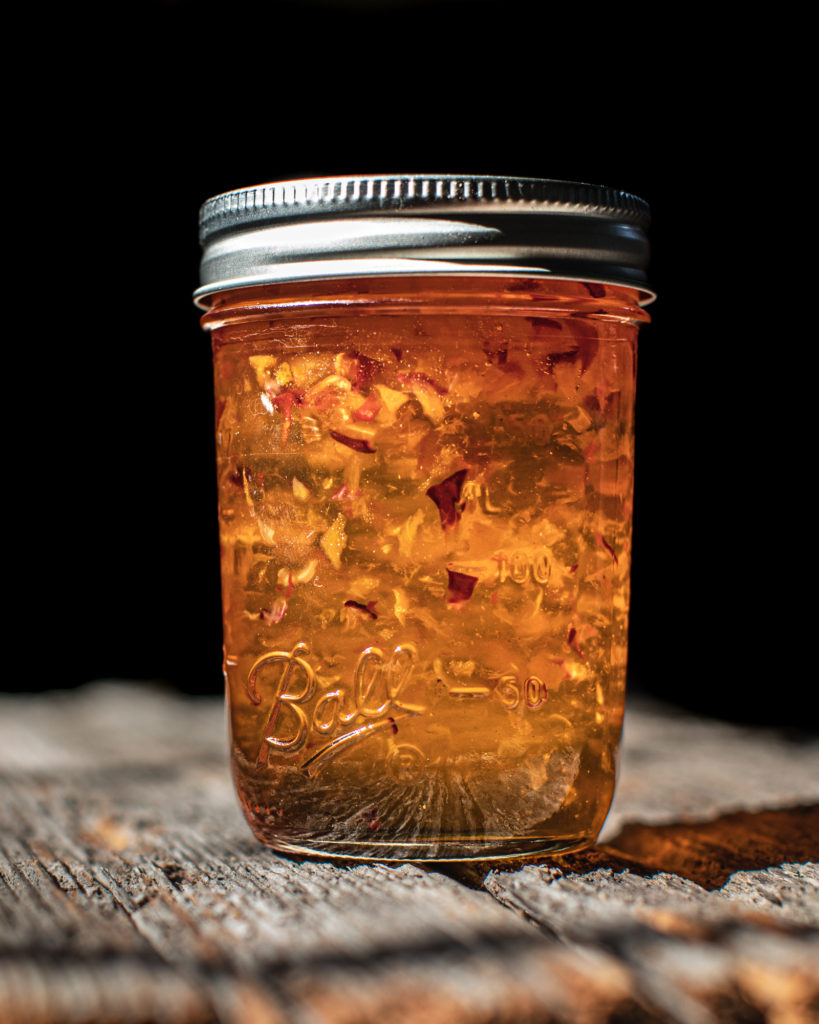 Before we being I wanted to offer a very big and grateful shoutout to today's sponsor, the makers of Ball® home canning products. It has been my honor and an absolute pleasure to be a year-long partner with them. Through our partnership, I have been able to showcase seasonal canning recipes, in addition to effective ways to use their amazing products in the kitchen. From storing flour for baking, tea for sipping, or capturing the essence of produce with water-bath canning- Ball® brand will forever be a huge part of my life in the kitchen and the home.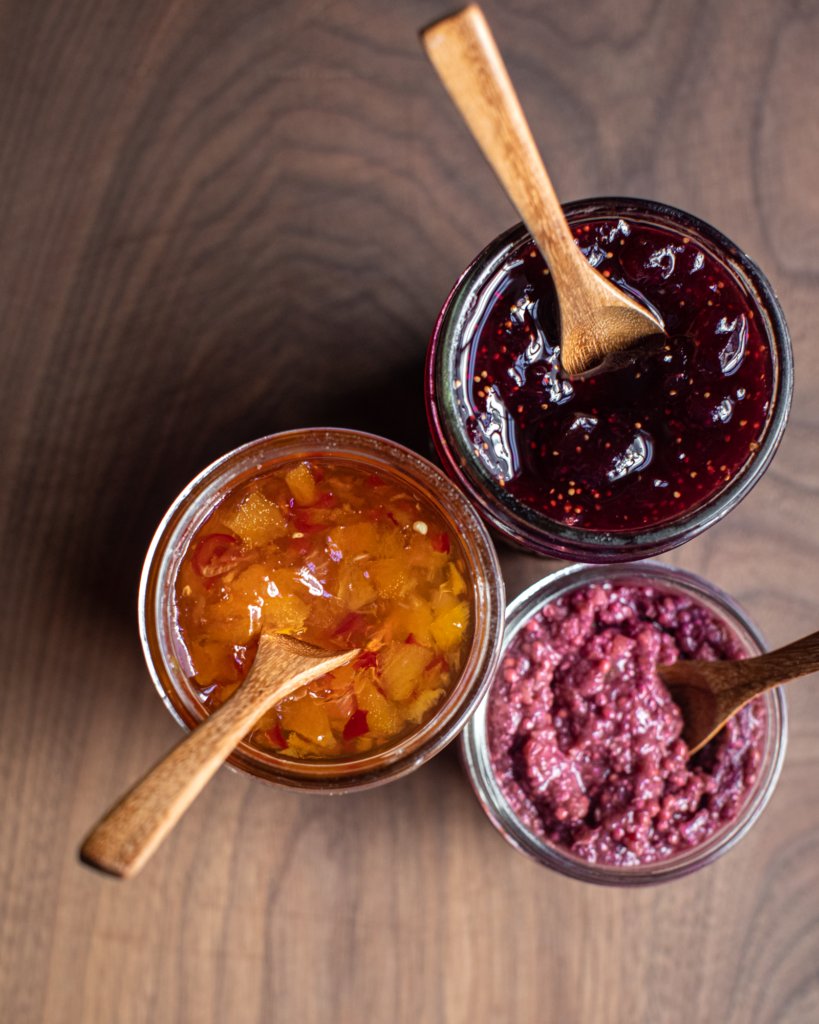 For today's post, I will be using 3 canning recipes that are from the Ball® archives that are also featured here on the blog. What makes this very special to me is that I was able to use canned recipes from this past year and enjoy them all at once. A lovely way to celebrate the seasons, the ripeness of produce, and an age-old preservation method. Here are the combinations that I will show you:
Habanero-Apricot Jelly with garlic cream cheese, toasted pecans, and thyme.
Fig Rosemary & Red Wine Jam with feta cheese, olives, and rosemary.
Cranberry Mustard with cheddar, roasted garlic, and fresh dill.
For each of these variations, a crispy phyllo cup will be filled with some of the canned condiment and then layered with the remaining ingredients of items like cheese, fresh herbs, etc. Of course, you can use store-bought versions of each of these. For example, any kind of pepper jelly or fig jam will do just fine and a high-quality whole-grain mustard with a tiny scoop of cranberry sauce will work in replacement of the cranberry mustard. I do highly recommend trying all 3 of these recipes as they are delicious and are a great starting point if you are new to home canning. Below I have linked the same Ball® products I used for these recipes to get you started:
4oz Quilted Crystal Jelly Jars
Half-Pint Quilted Crystal Jars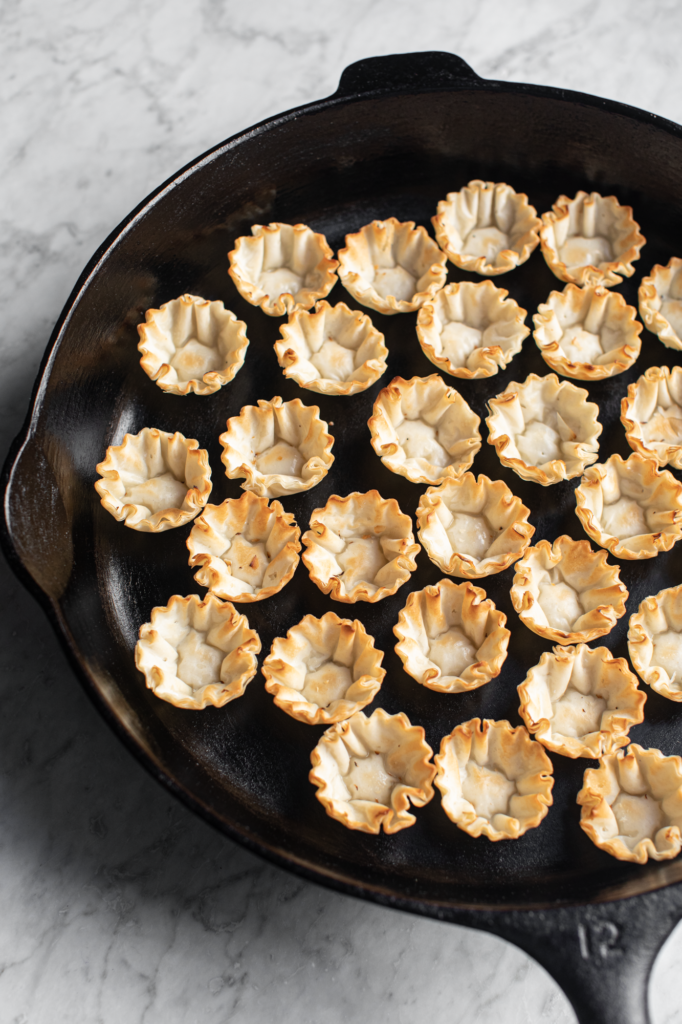 If you have never tried phyllo cups before- now is the time! They are such a great shortcut in the kitchen and they have a fantastic crunchy texture. You can push and pull them to be sweet, savory, or both. Look for them in the freezer sections (by the phyllo dough and pie crust). Of course, you can make them yourself if you'd like! But buying them pre-made makes life so much easier. All you have to do is pop them in a hot oven for 5 minutes and they are ready to go.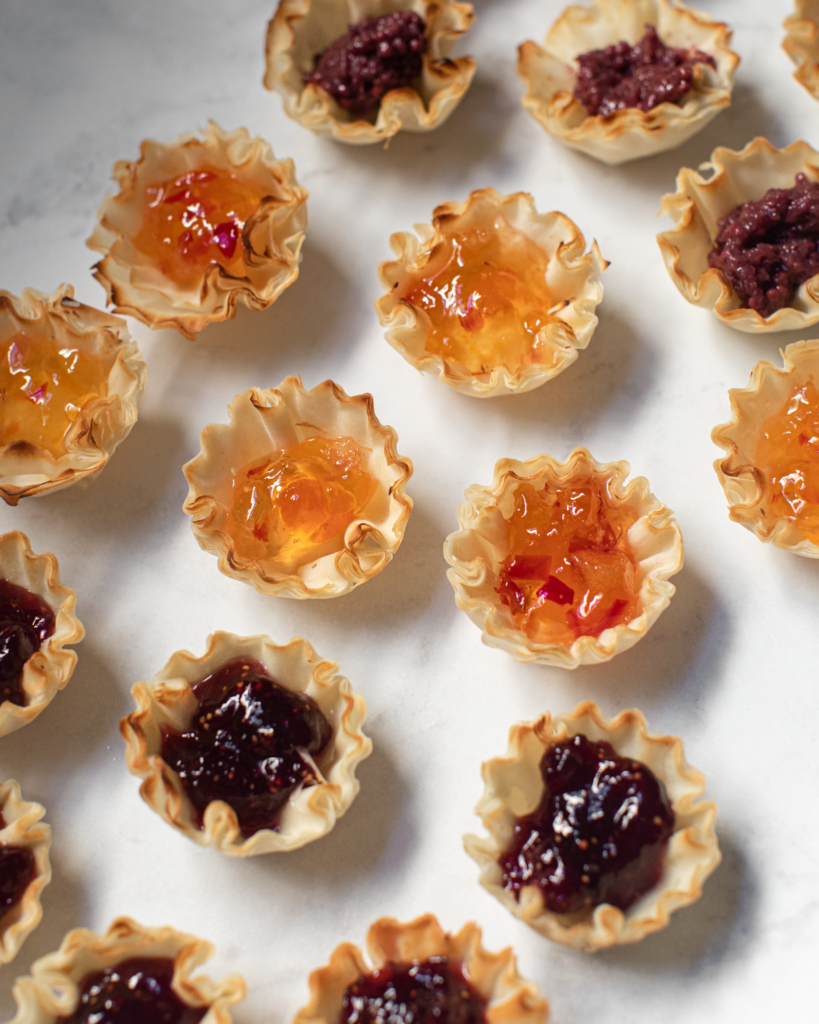 As I mentioned before, I will be using two different fruit-based condiments and a whole-grain mustard for these phyllo cups. You want to use a unique condiment that is interesting and fun. In these variations, I wanted every ingredient in each bite to compliment one another. The sweet and spicy pepper jelly pairs beautifully with a creamy cheese while the toasted pecan offers a crunch. As for the fig jam, I went for a tangy feta cheese paired with a salty olive. It's garnished with some fresh rosemary to echo the flavor in the jam. And for the cranberry mustard, my instinct was to pair it with a sharp cheddar cheese and roasted garlic for an ultra savory combination. Fresh dill offers a pop of freshness.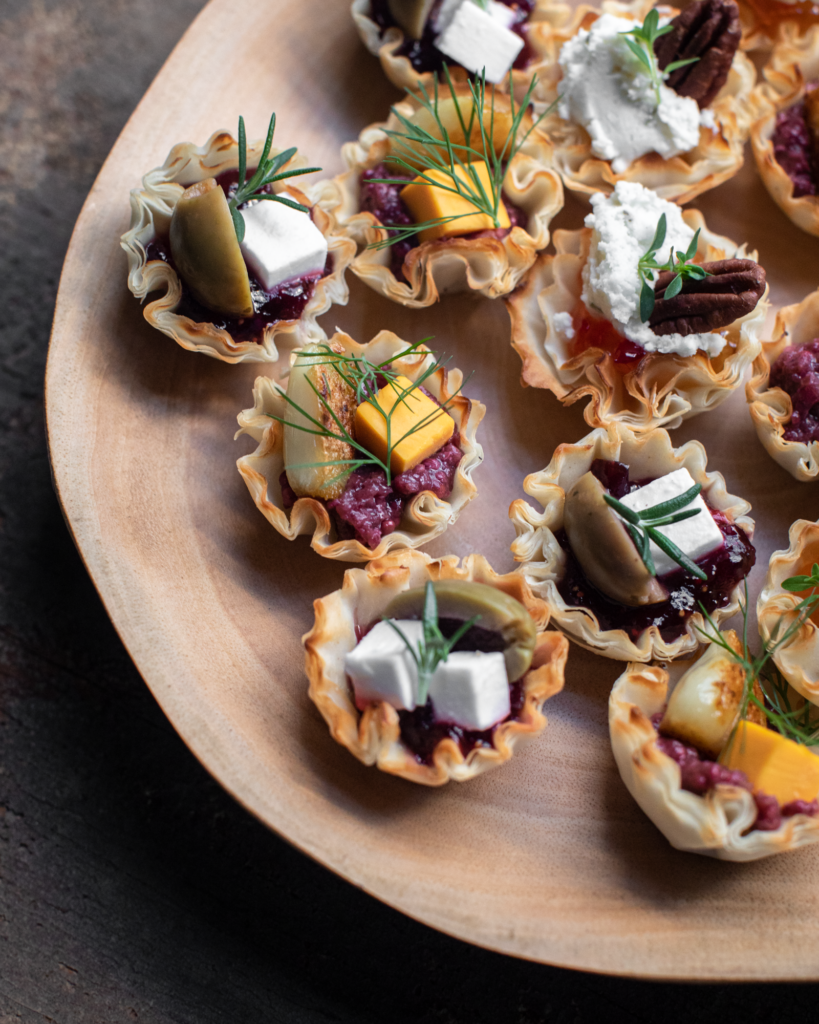 I love serving these Phyllo Cups as a part of a large appetizer board. There is nothing more inviting than a plethora of bite-sized snacks ready to welcome your guests. Some of my favorite items include olives, toasted sourdough, store-bought hummus with a drizzle of olive oil, corn nuts, herbed crackers, grapes, fresh carrot sticks, any kind of roasted nuts or seeds, and a pickled vegetable. I opted for Pickled Roasted Peppers which just so happens to be another fabulous recipe courtesy of Ball®. I made them earlier this summer. It is such a treat to break into a jar to enjoy the vibrancy of summer in the cooler weather.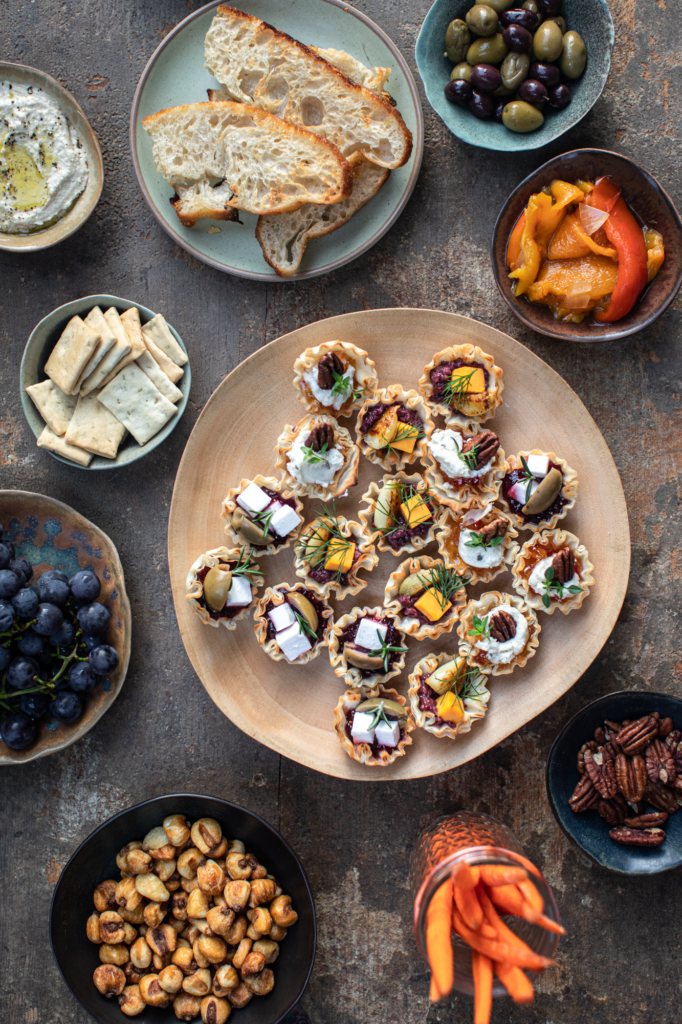 And there we have it folks, an easy appetizer for the holiday season. I hope that this recipe concept inspires you to try something easy and delicious. Remember, there are countless combinations that you could play with. This is your time to have fun and get creative! If you make them, let me know in the comments and, as always, thank you for being here.
-Timothy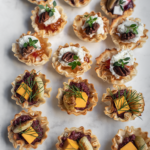 Ingredients
30 phyllo cups (2 packs of 15)

Habanero-Apricot Jelly (10 teaspoons)
1 container garlic cheese spread or vegan cream cheese
½ cup whole toasted pecans*
1 sprig fresh thyme

Fig Rosemary and Red Wine Jam (10 teaspoons)
Vegan feta block, cut into cubes
½ cup pitted green olives, halved 
1 sprig fresh rosemary 

Cranberry Mustard (5 teaspoons)
Vegan cheddar block, cut into cubes 
1 head whole roasted garlic*
1 large sprig fresh dill
Instructions
Preheat oven to 350°F. Place the phyllo cups on a baking sheet or in a large skillet. Bake for 4-5 minutes until golden and crisp. Set aside to cool. 

Fill 10 cups with 1 teaspoon of Habanero-Apricot Jelly. Add 1 teaspoon of garlic cheese spread or cream cheese. Press a pecan into the cheese and garnish with fresh thyme. 

Fill 10 cups with 1 teaspoon Fig Rosemary and Red Wine Jam. Add 1-2 cubes vegan feta and press a halved olive next to the cheese. Garnish with fresh rosemary. 

Fill 10 cups with ½ teaspoons Cranberry Mustard. Add 1 cube cheddar cheese and one clove of roasted garlic. Garnish with fresh dill. 

Serve on a beautiful plate and enjoy!
notes
For the roasted garlic, simply slice the top off of one whole garlic bulb (leaving the papery skin on!). Place in a baking vessel or a piece of foil and drizzle with olive oil, salt and pepper. Bake at 400°F for about 40 minutes, until the cloves are golden and soft.

To toast the pecans, add to a dry skillet and bring to medium-high heat. Cook for a few minutes, until fragrant, stirring constantly. Let cool completely.

These phyllo cups are best eaten in the first hour of being made.
*Disclosure: This is a sponsored post that is part of an ongoing partnership with the Fresh Preserving Division of Newell Brands. They have provided jars, equipment and monetary compensation. All thoughts and opinions expressed remain my own.