I absolutely adore dal, a common dish in Indian cuisine. There are many variations using different types of lentils and peas, but I particularly love using red lentils, also known as 'masoor' in Hindi. That is where the inspiration of this dish comes from! In my own rendition of this hearty stew-like recipe, I start with a foundation made from diced onions, carrots, and celery to cook the gorgeous red lentils with. A healthy amount of fresh ginger provides a comforting warmth to the dish that I find to be very grounding. It's loaded with fragrant spices that are toasted which intensifies their flavor.
Once cooked down, spinach is thrown in right before serving which provides some greens and a nice variation of texture. Then the dahl is poured over a mound of fluffy basmati rice and dolloped with a scoop of tangy coconut yogurt. For some healthy fat, I like to add ripe avocado. The rich texture is a nice contrast to the savory, soft lentils. A sprinkling of fresh cilantro provides a final hit of flavor that's rounded out from the acidity of freshly squeezed lime juice. It's sensory overload in the best way possible, not to mention packed with protein, fiber, vitamins, and minerals.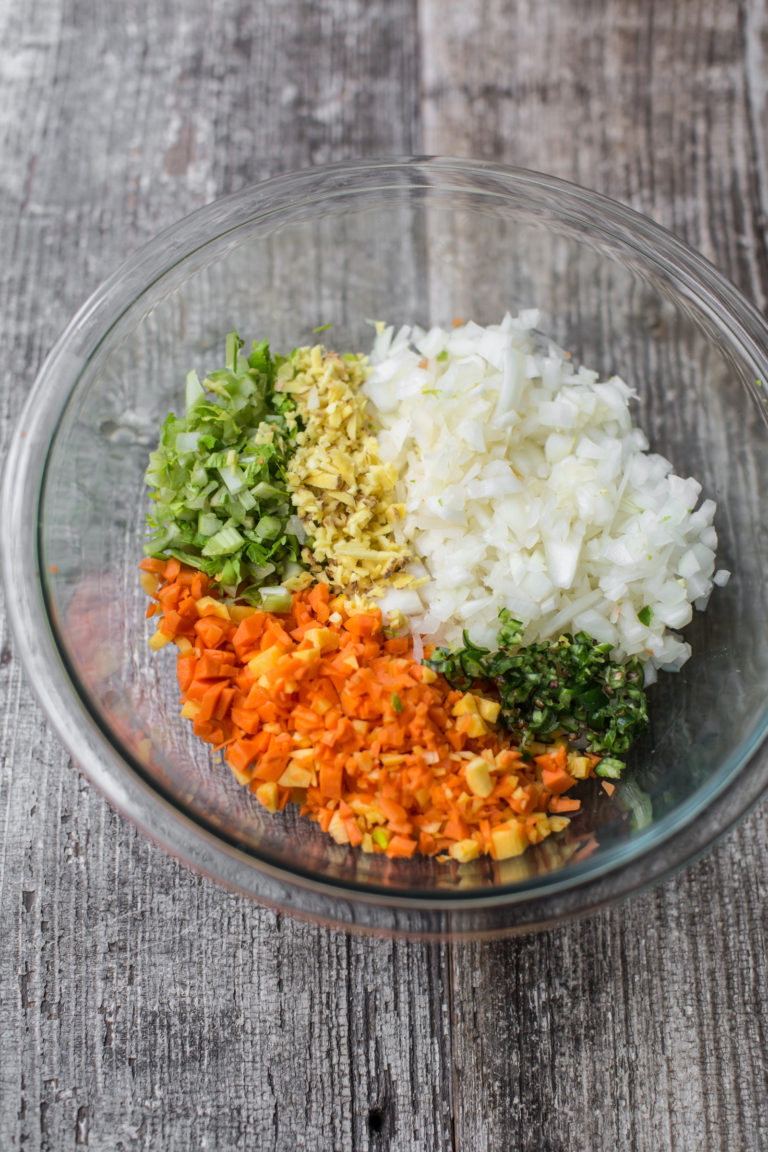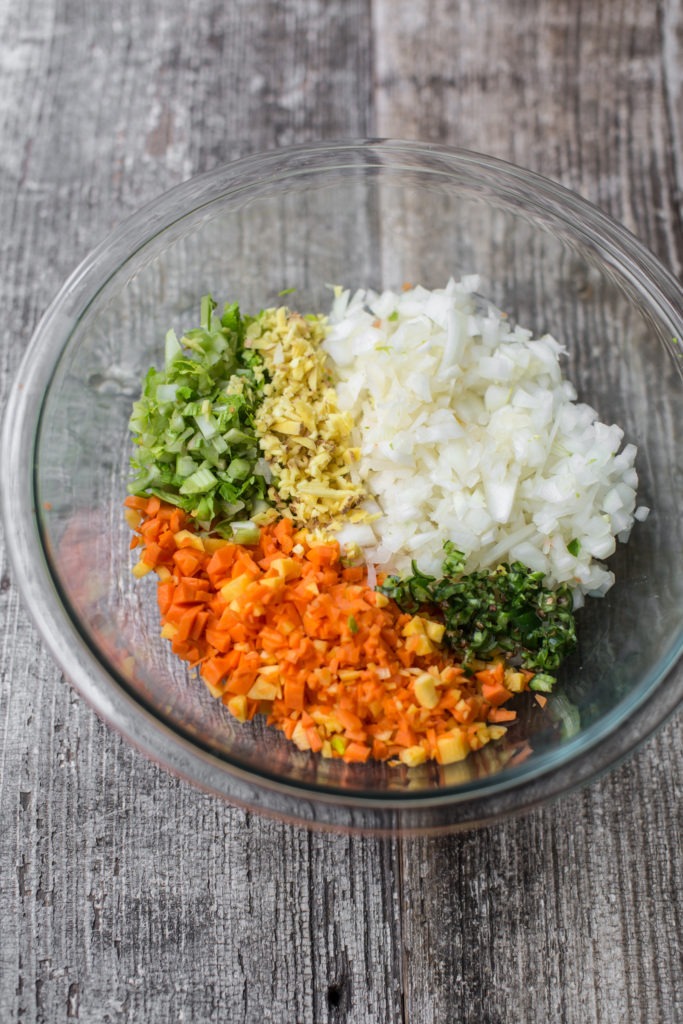 You'll notice in this gorgeous pile of diced vegetables a little pop of dark green. That's a Thai chili! This may not be a traditional ingredient to use but I just love the spice that Thai chilis offer. It hits your mouth in a different way than, say, cayenne pepper or hot sauce. It reminds me of the same warming properties that ginger has, a delightful touch to any comforting recipe. You can certainly use a jalapeno or bird's eye chili if you'd like. But if you have access to Thai chilis, I'd definitely recommend trying them out for this recipe.
---
---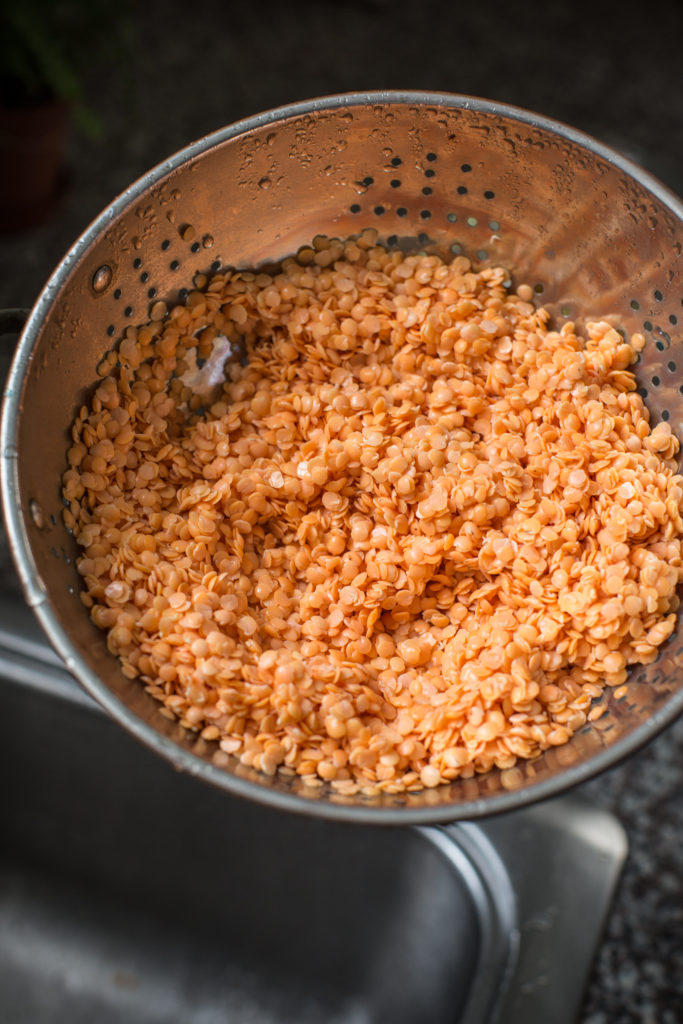 Red lentils are different than say, brown or dark green lentils in that they break down while cooking. In some recipes, you might desire a lentil that holds its shape, say for sprinkling over a salad or serving in a brothy soup. But here, we want the lentils to break down, creating a thick and almost creamy texture that dahl is known for. This creates a beautiful starchy foundation that is the perfect blank canvas for toasted spices. If you don't have red lentils, you can use green split peas or mung beans, although the color will be different!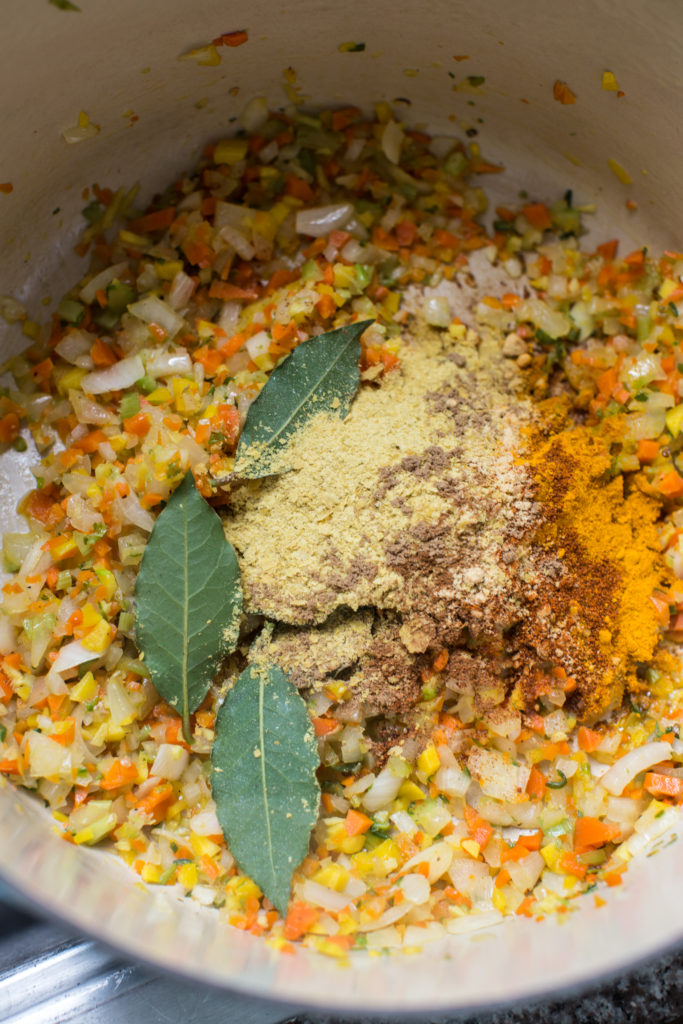 Now I know that this may look like a lot of spices. You'd be correct! This recipe is loaded with them. We're talking all-stars like cumin, coriander, ground mustard and ginger, golden turmeric, and spicy cayenne pepper. These combined with nutty nutritional yeast and fresh or dry bay leaves creates an intense medley of flavors that all work synergistically to deliver a pungent burst of flavor in each spoonful.
The trick for this recipe (and honestly any recipe using dried spices like these) is to toast them. No need to do this in a separate pan. I simply add them to the sautéed veggies and plant-based butter. As you cook them for a few minutes with the piping hot buttery vegetables, you'll immediately notice an earthy aroma wafting throughout your kitchen. That's what we're looking for!
---
---
Traditionally with dahl, I've noticed that ghee is used. Ghee is clarified butter which means the milk solids are removed from butter once it's melted down. This results in a liquid that is very buttery and delicious in flavor that also doesn't burn from the higher heat (because milk solids can burn). Of course, I want nothing to do with dairy in any form and I'd rather celebrate a delicious plant-based option that offers similar results. so use your favorite vegan butter!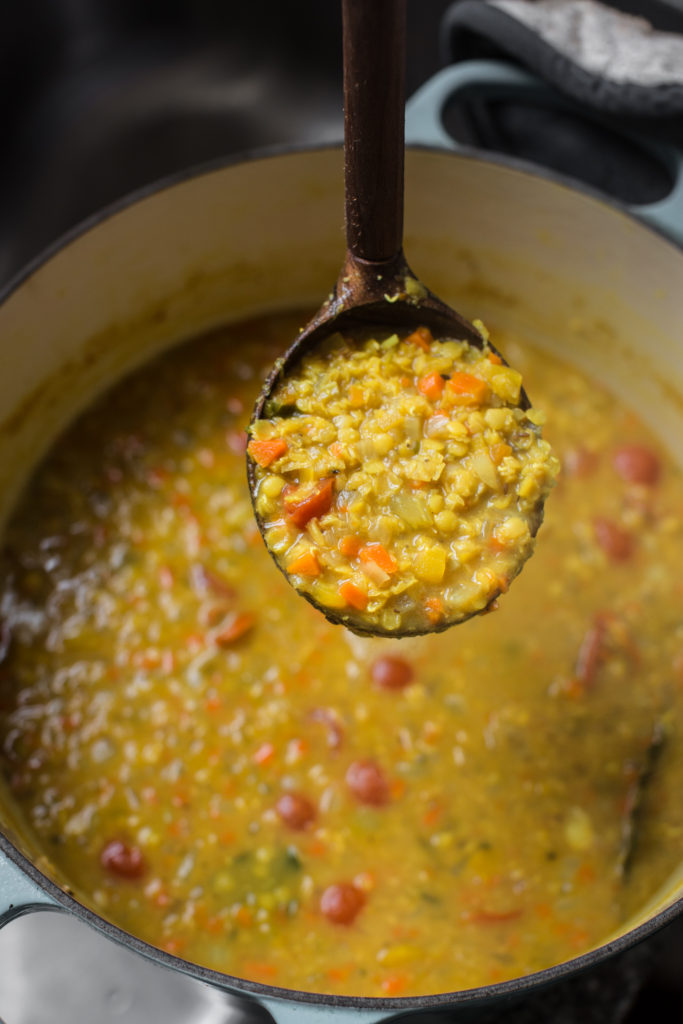 My 'Red Lentil Dahl' is best served with basmati rice, as the flavor and texture pair beautifully with this dish, but feel free to use whatever rice you have on hand or even something like quinoa or millet. I had a homemade loaf of turmeric sourdough bread that I toasted and used to dip into the bowl. Toasted pita bread would also be a delicious dunking vessel.
---
---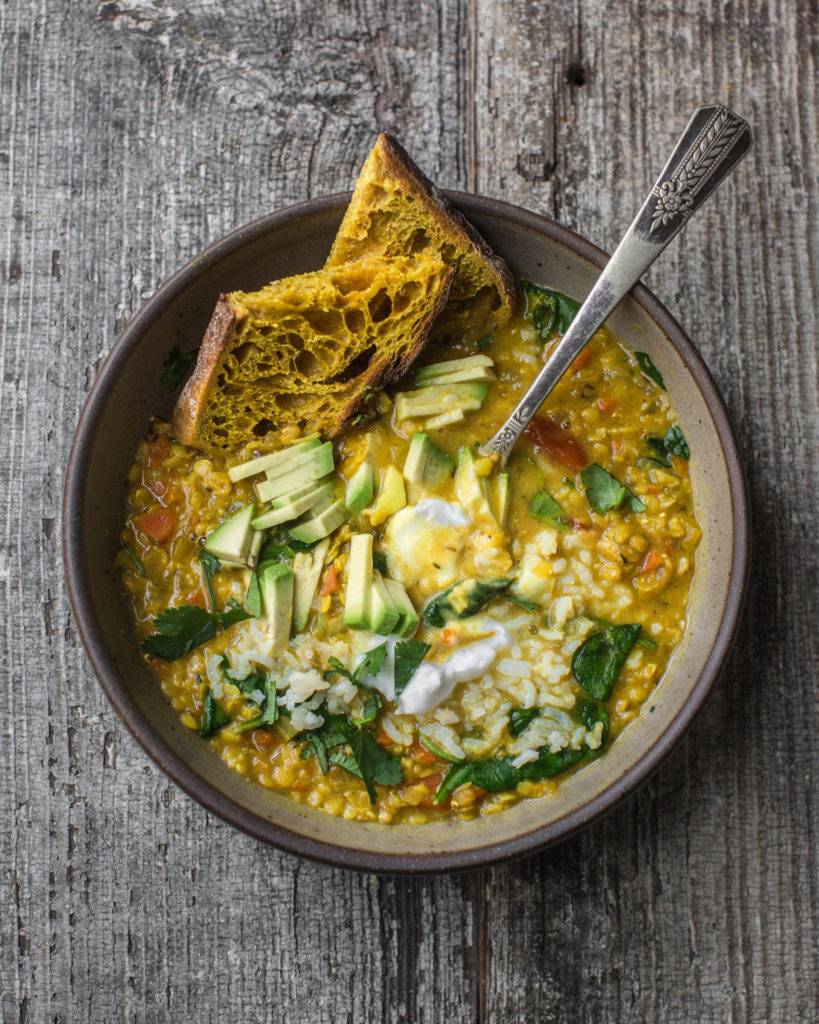 Check out more tips and tricks below and I truly hope that you enjoy this recipe! One final and very important note: this red lentil dahl is 10x better the next day after sitting in the fridge. All of the flavors develop beautifully. When reheating, simply add a few splashes of water with a pinch of salt to thicken up the mixture. Enjoy!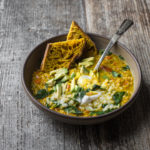 Ingredients
1 ½ cups red lentils, rinsed and soaked (at least 4 hours or overnight)
½ cup diced carrots (about 1 small carrot)
¾ cup diced celery (about 1 large stalk)
2 cups diced yellow onion (about 1 medium onion)
2 tablespoons ginger, peeled and diced 
1 small Thai chili, sliced 
4 tablespoons vegan butter
Sea salt + black pepper, to taste
4-5 cloves garlic, thinly sliced
6 cups filtered water
1 cup cherry tomatoes, quartered
2 tablespoons tamari
2 teaspoons yellow mustard
1 teaspoon garlic powder  
1 teaspoon sea salt, or to taste
2 handfuls fresh spinach

Dry Spice Blend:

2 ½ tablespoons nutritional yeast
½ tablespoon whole cumin seeds 
½ teaspoon ground coriander 
1 ½ teaspoon ground turmeric 
2 teaspoons ground cumin
1 teaspoon mustard powder 
1 teaspoon dried ground ginger 
¼ teaspoon cayenne 
1 teaspoon curry powder
4-5 bay leaves, fresh or dried

Options to garnish:

2 to 3 cups cooked basmati rice
Ripe avocado, cut into chunks
Plain coconut yogurt, a dollop
Freshly chopped cilantro, a sprinkling 
Fresh lime slice, to squeeze
Toasted bread or pita, to dip 
Instructions
1. In a large bowl, rinse and soak your red lentils for around 4 hours or overnight. Be sure to cover the lentils with enough water as they are going to soak up quite a bit. Once soaked, drain and rinse thoroughly. Set aside. 

2. For this recipe, it is best to have everything prepped in bowls before you start to cook. Mix together the spice blend and chop all ingredients and have them ready to go. You don't want to be scrambling looking for spices once you start cooking. 

3. In a large pot, add plant butter and bring to medium heat until melted and bubbling.  Add carrots, onions, celery, ginger, and chili. Sprinkle with a little salt and pepper to season. Let cook down for 10 minutes, stirring every so often. 

4. After the veggies have cooked down, add the spice blend and toast the spices and veggies over medium heat, mixing thoroughly. Add a splash of water to help the bottom from sticking and the garlic. Cook for a few more minutes, until the mixture smells outrageously fragrant.

5. Add the lentils, water, cherry tomatoes, tamari, yellow mustard, garlic powder, and salt to taste. Turn the heat up to medium-high and bring to a boil. Once to a boil, reduce the heat to medium-low and cook at a simmer with a cracked lid. Cook down for about 30 minutes, stirring every so often, until the tomatoes become super tender.

6. When ready to serve, add the spinach and mix well. Once the leaves become wilted, give the dahl a taste. At this point, you can add more cayenne if you like it to be spicer. Ladle over rice and garnish with coconut yogurt and chopped cilantro. Seve with a piece of toasted bread or pita and a slice of lime. 
notes
You don't absolutely have to soak the red lentils but from what I have read, if you soak them and drain the water, it helps to remove some of the phytic acid which makes them easier to digest. Doing so reduces the cooking time, as well!

If you don't have a Thai chili, you could use a jalapeno. 

If you'd like to use another green like kale, arugula, or swiss chard, those would work beautifully!

When peeling the ginger, you don't have to get every last bit of the skin off. I honestly find that it doesn't affect the taste. You can use a spoon to scrape off as much as you can and then chop. Or you can opt to use a microplane if you have one. 

If you don't have access to coconut yogurt, you could use another plant-based option. Just make sure it is plain in flavor. You could also use a drizzle of coconut milk or coconut cream.