Hello and welcome to my favorite things! Here you will find items to use in your kitchen, home & garden, music recommendations, videos & shows to watch, and specialty items that I highly recommend. Please note that many of the links below are affiliates, which means I make a small percentage of each sale with no additional cost to you (which directly helps to support the blog) and some of these affiliates offer discount codes that are exclusive to my readers! If you'd like to be notified when new items are added, subscribe to my newsletter and you'll be the first to know. Enjoy!
---
KITCHEN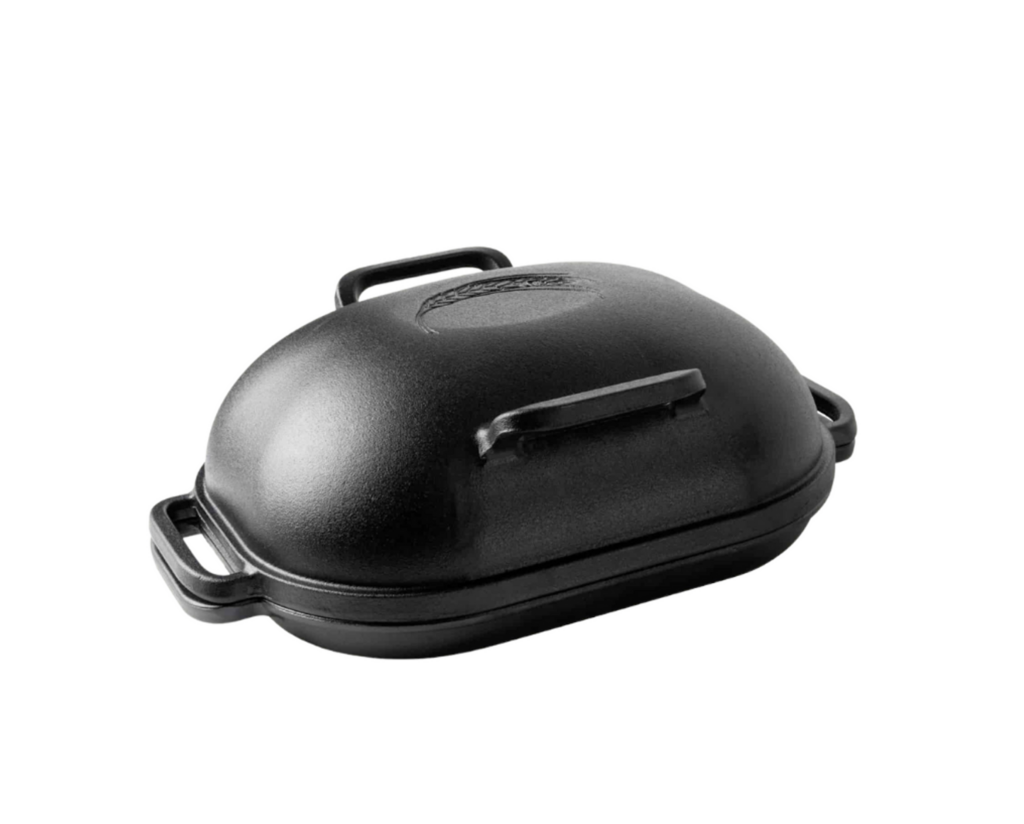 The Challenger Bread Pan
It's no secret, I am obsessed with sourdough baking. My goal early on has always been to make the most perfect loaf. I have tried many different methods for doing so and I have found that the Challenger Bread Pan is an excellent tool! The design makes it so much easier to place the loaf in the pan and the lid on top (if you've tried doing this with a dutch oven, you know it can be a bit cumbersome!). Once you find the oven temperature sweet spot in combination with this pan, you will be left with a gorgeous loaf with a beautiful oven spring.
Rishi Tea
If you know me, you know that I ADORE tea. I even wrote a whole blog post about it. So you might be wondering, where is my favorite place to purchase my tea? Rishi! They have the most amazing selection with the highest quality and many of their offerings are organic. Use my code MVEGAN15 to get 15% off the entire site. I cannot recommend this company enough!
Fleur de Sel
Meet my favorite salt: Le Saunier De Camargue Fleur De Sel. I simply adore the texture and flavor of this finishing salt. It is light and crunchy and perfect for sprinkling over top sliced tomatoes, salads, pasta, roasted veggies- literally everything. I also love the shape and feel of the container it comes in. I actually order this salt in bulk and refill the smaller container. Try it out for yourself and let me know what you think. I'm guessing you'll love it just like me.
Glass Baking Dish
If you do decide to watch my 'Easy Baked Rice' video above and you'd like to use the same baking vessel as yours truly- look no further! Here we have one of my favorite baking dishes. Perfect for cooking rice and casseroles, I love how the handles make it easy for placing in and out of the oven while the lid is great for not only baking but also storing leftovers in the fridge. The best part? It's only $13 bucks! Tap the link here to check it out.
Cold Press Juicer
This is my favorite juicer on the market. It comes in the most beautiful packaging (that you can absolutely reuse!) and the juicer itself is sleek, relatively quiet (compared to other juicers) while also being cold press to preserve the most nutrients. What's nice about this juicer is that you don't have to chop too much. Simply place your veggies or fruit in the top and the blade will slowly sort and cut through everything. If interesting, I just so happen to be an affiliate and they are offering my audience 10% off at checkout using my code TIMOTHY10. You can learn more about the J2 here.
---
---
HOME & GARDEN
Baloo Weighted Comforter
Y'all, I am OBSESSED with my Baloo weighted comforter. I know this may not be for everyone, but if you like the idea of having a bit of weight on you when you are tucked into bed, this is what you need! I have been using mine for the last year and I sleep so much more deeply because of it. It is calming and incredibly comforting. Made with 100% cotton (no polyester or synthetic liners) and filled with glass beads, this breathable, weighted blanket creates a cool, deep sleep. (And it's vegan too.. duh!) Use my discount code MVEGAN10 for 10% off the entire site.
Citronella Sea Salt Incense
Sometimes little buggies can feel a bit invasive: I am looking at you mosquitos! To keep them at bay, check out this elegant solution that will also make your outdoor setting inviting and charming. Skeem's incense contains all-natural citronella, grapefruit, and lemon & lime oil that are blended with sea salt and hints of jasmine. It smells FABULOUS and also has a long burn-time. I have been using these sticks for years and I am happy to share them with you now!
(Image credit: Tommy Bahama)
Basil Seeds – Variety Pack
For only $10 bucks, I thought this was a steal! This set includes some of my FAVORITE varieties like 'Lime' which is bright and citrusy and 'Cinnamon' which is earthy and pungent. 'Spicy Globe' has the cutest little clusters of leaves (perfect for food styling and garnishing). I've been having a big issue with army worms eating all my seedlings this year so I planted all of these varieties in my greenhouse so I can keep a close eye on them. When planting basil seeds, keep them super moist and be patient- they can take up to 10 days to germinate!
Metal Shopping Basket
I have been using this metal shopping basket for the last two months and I love it! Ever since I was in college, I have always had a personal hand-held shopping basket (like the ones you use in the grocery store). I find it so much more effective to use when grocery shopping. I personally don't love cramming all of my goods into a bag only then be unpacked moments later. It seems like a waste of time! With this basket, I can plop it on the counter, take my items out, and then place it by the door for next time! This basket is very sturdy and is made well. It's linked here.
---
---
LISTEN
h hunt
Playing Piano for Dad by h hunt is absolutely gorgeous. Elegant, calm, and mellow while also uplifting and beautiful. Simply the piano and one man. I invite you to listen to this instrumental album the next time you have a slow morning while sipping on coffee, flipping through a cookbook, or making a scrumptious breakfast. It's a true delight.
Dorothy Ashby
My goodness the music of Dorothy Ashby has become such an amazingly beautiful part of life. I was first introduced to her work in my early 20's in Charleston, SC. I immediately began searching for all of her music and quickly fell in love. Two of my favorite albums are Afro-Harping (on Spotify) and Django Misty (on YouTube). Both are perfect for cooking and dinner parties. Down below is a link to her version of My Favorite Things which was the inspiration for the name of this very page! You simply must listen.
Broadcast – Haha Sound
This is such a special album! What I like to call 'dreampop,' this collection of songs has a unique and wistful sound. The late lead singer's haunting voice over experimental and sometimes eerie instrumentals creates a romantic and hazy feeling that reminds me of a daydream. I love all of their music but I especially adore this album. Here I have linked one of the more popular tracks. Give it a listen and I hope that you enjoy.
Jessica Pratt
This self-titled debut album is a huge part of my life. I have listened to it over 100 times, no doubt, and I will continue to listen to it for as long as I'm alive. Pratt's unique and somewhat peculiar voice paired with her stark guitar playing and poetic lyrics makes for a powerful combination. I must admit, there are many of you who will probably not like this album. But to the ones that it does resonate with- it will become a touching part of your life, just as it has in mine.
Stevie Wonder – The Secret Life of Plants
Recently, I have been listening to this album (which is actually a soundtrack to a documentary) and it has become such a beautiful part of my life! I have been a Stevie Wonder fan ever since I heard his music as a child, but this album was new territory for me. This collection of songs is interesting and dynamic: some are instrumental, some are live, and some feature other singers. Definitely check it out and I hope that you love it.
Lovely Jazz Playlist
Speaking of jazz harpist Dorothy Ashby, I also have a fabulous new playlist for you to enjoy. If you are new to jazz or you already love it, I think this is the perfect playlist for you. I personally adore jazz (it originated here in New Orleans!). I find that instrumental music is ideal for me when I am working on the computer or need to concentrate. And there's nothing quite like sipping on a cocktail and cooking supper while listening to this genre of music. Give this playlist a follow and listen and let me know what you think.
J-DILLA – The King of Beats
It is very important for me to have music playing while I work. What I have found, especially for when I really need to concentrate like with computer work or food styling, instrumental music is BEST. It allows me to keep my flow and not feel distracted. This compilation of tracks by J-Dilla is perfect for that. His beats are clean and fun and he uses excellent samples. I have listened to this album hundreds of times, especially in the kitchen. Give it a listen and get to work!
Stereo Lab – Dots and Loops
This iconic Stereolab album from 1997 seems to always be a good idea to put on. Whether you are wearing your headphones on a walk, cleaning the house, working on the computer, or cooking up something delicious- this sublime album works beautifully as a calming soundtrack for any activity. The lead singer's voice is smooth and cool and the instrumentation is what I like to call 'dream pop'. Give this one a listen and let me know what you think!
Monster Rally – Adventures on the Floating Island
This album by Monster Rally has been on repeat as of late! It is perfect for summertime, especially when winding down in the evening with a glass of wine or a cocktail. And just look at that album cover! I also love listening to this while working on the computer. Y'all know I love me some chill instrumental music with no lyrics so I'm not distracted. Give this tropical delight a listen and let me know what you think.
Sade – Love Deluxe
I have always been familiar with the work of Sade. But it wasn't until I started listening to this album that I really became a true fan. It's one of the special records that you can play start to finish without skipping a song. Sade's smoky and sexy voice mixed with an early 90s sound results in a collection of songs that are absolutely divine. Give this one a listen, especially when cooking dinner or on a slow morning. I hope that you love it.
Songs of Leonard Cohen
As we roll into the winter months, I wanted to highlight this very powerful album by Leonard Cohen. Many of the songs are bare and stripped down to just his voice and an acoustic guitar but the effect is magnificent. Recorded in 1967, this album has a timeless quality to it that only a masterpiece can offer. Perfect for any occasion really, this album is a pure delight to listen to. Here, I have linked its opening track, Suzanne. I am sure many of you are familiar, but to those who are not, I invite you to listen and to fall in love like so many of us have. 
---
---
WATCH
Sourlotti by Abby
It probably comes to no surprise that I love watching sourdough bread making videos. I've watched hundreds of them on YouTube! One creator that stood out to me is Sourlotti by Abby. Her videos are incredibly detailed and thorough but also calming and beautiful. Her end results are quite impressive- just look at the crumb! Below I have linked one of my favorite recipe videos of hers here: a seeded sourdough loaf. After watching the video, you can't tell me you don't want a slice!
(Image credit: Sour Lotti by Abby)
Easy Baked Rice
Check out my YouTube video showing the world how to make my 'Easy Baked Rice'. Simply combine the rice with water and seasonings, pop it in the oven, and finish cooking the rest of your meal. After only 25 minutes, you have perfectly cooked rice that's ready to serve with your supper. And if you have leftovers, you can just place the lid on top and pop it in the fridge. Perfect! (Here is the exact glass baking dish I love to use.)
My Octopus Teacher
If you are an animal lover like me, this documentary is for you. Be prepared to bawl your eyes out as you watch a beautiful friendship form between this man and a fascinating little octopus. The intelligence of this creature is just amazing to see and the story is also incredibly touching. Not to mention, it is shot gorgeously. 10/10 recommend!
Vogue's Life in Looks with Erykah Badu
I am a huge fan of Erykah Badu. Not only for her music but also for her fashion. In this interview, she breaks down some of her past looks offering a behind the scenes look as to how they came to life. I love how she uses fashion as a way to express her creativity and the looks she discusses in this video are fantastic. Her approach to fashion is wildly unique and learning about that is a joy to watch.
Dark Side of the 90s
This series created by VICE is available on Hulu and I have been working my way through some of the episodes which take a deep dive into the decade's untold history, revealing secrets, and perspectives. Thus far my favorites are 'Beanie Babies Go Bust' (DUH!) and 'Grunge and the Seattle Sound'. They do a great job covering lots of different topics and if you were a kid of the 90's (like me!), I think you will find an episode or two that will grab your attention.
The Orange Years
Piggybacking off of the last recommendation, here's another great one! If you grew up in the late 80's and early 90's, chances are you loved Nickelodeon. I sure did! Shows like Ren & Stempy, The Adventures of Pete & Pete, Rugrats, Clarissa Explains It All, and Doug were a big part of my childhood. And let's not forget about Snick! In this documentary, you'll learn the fascinating story about this iconic television channel and how it all began. I've already watched it 3 times because I love it so much. If you did grow up watching Nick and you decide to watch this– prepare for major memories and feelings to be unlocked.
Chef's Table – Jeong Kwan
In this incredibly inspiring episode of Chef's Table, you are invited into the world of Buddhist nun and chef of Korean cuisine, Jeong Kwan. She lives at the Baegyangsa temple in South Korea, where she cooks for fellow nuns and monks, as well as occasional visitors. In this episode, they explore her relationship with food and her exquisite approach to cooking (and gardening!). What I love most is that all of her recipes are cruelty-free and completely vegan, with a simple presentation that is absolutely stunning. This particular episode is the first one of Volume 3, which I have linked below. Enjoy!
How It's Made: Tea
If you've been a long-time reader, you probably know that I adore tea. I drink 3-4 cups a day! In this informative video, you can see the process of making Oolong tea from start to finish at a farm in Thailand. It is fascinating to watch and even if you don't like tea, I still think you would appreciate this video greatly. Also, this is where I purchase my tea from. Enjoy!
Cauliflower Salad with Miso Dressing
Here we have a beautiful and interesting vegan recipe video that I stumbled upon recently. It comes from the Ottolenghi Test Kitchen YouTube channel which has a fantastic collection of veggie heavy recipes (many of which are vegan). They do a great job of making sure that each dish they create is super flavorful and full of interesting textures. I am always left feeling inspired after watching their content. And now, I am excited to share it with you!
Vegan tour of Sicily
Did you know that I am part Sicilian? It's true! So I am sure you can imagine that when I learned that there are many popular dishes from my homeland that are already completely vegan– I was thrilled! In this amazing video, my instagram friend Julius takes you on a tour of some delicious vegan eats that is such a joy to watch. Definitely check this one out and be on the lookout as there are more to come.
---
---
MAKE
Raspberry & White Chocolate Tart
Check out one of my favorite cookbook authors, Amy Chaplin, as she shows you how to make this gorgeous Raspberry & White Chocolate Tart. I love watching her cook as she is very calming and the food she makes is so lovely. Not to mention, this tart is free from dairy, gluten, eggs and refined sugar. This is some vegan magic right here, y'all! Tap the here to check out the full recipe and to watch her make it from start to finish. (Also, check out her amazing cookbooks!)
Carrot Coconut Red Curry Soup
My dear friend Joy the Baker is one of my favorite people: online and off. She is always inspiring me with what she's up to in the kitchen and her personality never fails to brighten my day when I catch her IG stories or TikTok videos. (Check them out and you'll understand why!) I am also happy to say that she has a dedicated vegan page under her recipe index on her website! I was recently looking at this gorgeous carrot soup and thought to myself: I think I might actually have all of these ingredients on hand! And I figured you might, too. A perfect recipe to make as we (slowly) transition from summer to fall.