Hello, my lovely readers. Today's blog post about potato salad is going to be a bit different than usual. You see, something very important happened to me this year. Something that I now refer to as the highlight of my career. Now before I go into exactly what that was (and also share a recipe with all of you), I want to tell you a little story. Well, maybe a long story but this is my blog and I can do what I want! As always, thank you for being here.
When I was a young teenager I came upon my older sister's CD collection. It was that time in my life where I started to become very interested in music and I was on the hunt for anything that would make me feel something (even though I probably couldn't explain that at the time). I found an album called 'Little Earthquakes' by Tori Amos (the image below is a single from the album). I popped the disc into my portable CD player and put my headphones on. From that moment on, my life was forever changed.
Now I know this may sound dramatic, but it's true. When I listened to Tori's music, it was like an introduction to a new world. When my headphones were on, I was tapped into a creative expression that was so meaningful and powerful, it is still hard for me to describe. If I had to sum it up, Tori's music was a striking example of individual artistic expression. It made me feel something that I had never felt before and it was extraordinary.
I quickly started to search for, and consume, all of Tori's music. These were the days where you couldn't easily hop online and find everything. You had to hunt. But that's also what made it so special. I immediately bought any albums I could find at record stores. Eventaully I started to notice that cetain EP's and singles would have B sides (additional songs from albums that didn't make it to the final LP).
At this point in time, the internet was still quite new, and finding content was a bit of a challenge but it was possible. I found old interviews of Tori from 1991, rare live songs that she had sung before her career took off, and even found out that she had been a part of an 80's band called 'Y Kant Tori Read'. Was fascinated and starving for any and all information I could find out about this woman. I was mesmerized by her.
As time went on and my love grew stronger, I started to wonder about other Tori fans out there. I started to wonder, how can I see Tori? Does she play live? I was naive. It was then I found that Tori's live performances were not only happening consistently but that she had a devout following that she referred to as 'Ears With Feet'. Fans would follow Tori around the world to listen to her play completely different setlists at each show.
I quickly looked at when her next show was and I found out that Tori was playing live at the Orpheum Theatre in New Orleans, LA, on October 30, 2001, to promote her new album, Strange Little Girls. I begged my parents to take me and my twin sister (who had also become a devout fan) even though it was on a school night. They agreed and we went. If you thought that my relationship with Tori couldn't have been more intense- you would be wrong. After that night of seeing her play live, I was so overwhelmed with joy, I was hooked. And I needed more.
But why was I so obsessed? What was happening? Let me paint the picture.
At this point in my life, I was 14. A young gay boy, in the closet, growing up in Mississippi. I was clearly way more feminine than all the other boys at school which was brought to my attention constantly. I couldn't tell anyone about my sexuality because I was terrified about what everyone would think or say. Growing up as Catholic and being surrounded by a large Christian community, I was also continually reminded that it was a sin to be a homosexual and that I was probably going to hell.
All of this in combination with going through puberty was tough. I was trying to figure out how to be, well, me. Don't get me wrong, my parents loved me very much and I did have friends, but I also felt lonely and misunderstood. I was yearning to express myself but I didn't know how.
It wasn't until the live show in New Orleans that I felt like I was a part of something. The crowd was mixed with all different types of people, including more gay men and lesbians than I had ever seen before! The whole crowd was just as passionate about Tori as I was. I was beside myself. I can't tell you how refreshing it was to be around these people, all coming together to watch this beautiful artist tap into her heart and share herself with us in such a dynamic and intense way.
Ultimately, Tori taught me that it was ok to be myself. She helped me to stop worrying about what other people thought about me. Tori debunked the idea that I was a sinner in the eyes of Catholicism and Christianity. She was the example of self-expression that I needed to see at that time in my life. On the ride home after the show, I laid down in the back of my parents' van. I was completely and utterly captivated.
After that show, I finished my 9th-grade year in my hometown of Mississippi and I started attending a co-ed boarding school in North Georgia, which had dorm students in addition to day students that lived in the area. I was excited to get out of my small town, start a new life, and be more independent from my parents. I quickly befriended a group of girls and spent most of my time with them. We drove around for hours and listened to Tori, blasting her music as loud as we could. During this time, I befriended someone by the name of Alex. We became best friends and connected over our love for Tori.
At this time, Tori was going on tour for her new album, Scarlet's Walk, and I was eager to see her again. Looking over the tour dates, my heart was broken because she was playing in Atlanta (about an hour away) on a school night. There was no way I could get approval to go- I was 15, attending a boarding school, and had no car. But that didn't stop me.
I studied all of the tour dates that were on the weekends and found the closest one to Rome, GA. It was in Kansas City, Missouri. This was a 12-hour drive away. So I asked my friend Alex if she would drive us and she was in. At this point, we had also learned that Tori would host 'meet and greets' outside of the venue before the show as long as you got in line early enough. We were going to see Tori. And maybe even meet her.
Now the logistics were tricky. We both were under 18 so we couldn't exactly check ourselves into a hotel. We also had school on Friday and I had to be back at the dorms on Sunday night at 6:00 pm. That meant we had to drive straight there, find a place to crash, get up early, and try to find the line for the meet and greet. And then, of course, go to the show! The next day, we had to drive straight back to Georgia. Everything had to be done in one clean sweep without anyone finding out, especially my parents and boarding school. It was risky business but we were determined.
So we drove all the way there, listening to Tori the whole time. In the middle of the night, we found a cheap motel that let us get a room and got only a few hours of sleep. Early the next morning, we left and went to the venue to try and find the meet and greet, which we did. After waiting in line all day, I finally met Tori for the first time (see the picture above). When it came to be my turn, she opened up her arms and gave me a hug. As I squeezed her, I softly said, 'Tori.' She whispered in my ear, 'Yes.'
For my 16th birthday, my parents wanted to take me and my twin sister to New York City: for the first time ever! This was a big deal to me and I was very excited. Of course, I immediately began studying Tori's tour dates. To my surprise, Tori was not only playing in NYC when we were going to be there. She was playing, on my birthday, March 6th, at Radio City Music Hall. I had some money saved up from when I was a lifeguard in the summer and I scoured eBay for the best tickets I could find. I ended up scoring pit tickets, literally right in front of the stage.
After arriving in New York, for our birthday my parents had planned a whole bunch of touristy things for us to do. As we hit the streets, I knew that Tori was going to have a meet and greet outside of Radio City and I needed to get there ASAP. I explained this to my Mom and she thought I was crazy and didn't want me to go.
So what did I do? I hailed a taxi cab right in front of my family and jumped in. 'Radio City Music Hall' I exclaimed to the driver and off I went. Was this rude and disrespectful to my parents? Yes. (I apologized after the fact.) But if you thought I was going to miss an opportunity of seeing Tori Amos in person on my 16th birthday in New York City- you would be mistaken. Later that day I did meet her and got another hug.
As I finished high-school and went to college, I continued to always listen to Tori. During this time, my love affair with music continued to grow and expand. I started exploring other artists and all types of music and even became obsessed with new musicians. I've been to countless live shows and have created new love affairs with different artists. But none of these live shows were quite like Tori. And none of these amazing relationships with new musicians have or ever will be as intense as it is with Tori.
In my mid 20's, I moved to NYC to pursue my career as an artist. I was working multiple jobs: serving tables, working at Apple repairing iPhones, being an artist's assistant part-time, and doing whatever freelance photography gig was thrown my way. This snapshot above was taken in June of 2014 before I even started Mississippi Vegan! As you can see, I always keep Tori around as a reminder to be myself and to be fierce about it.
Here we have another framed piece I have hanging in my office. This is my favorite image of Tori. It is a single from Boys For Pele which happens to be my favorite album by her. Every day this image inspires me to express my most authentic self and to tap into my heart. And if I'm ever feeling down, I can just look at Tori and she makes me smile.
And now for the kicker…
Earlier this year, I woke up one morning to find out that Tori Amos had recently been interviewed by NPR. "Tori Amos Offers Quarantine Comfort With A Recipe For Vegan Mushroom Stew" was the title of the piece and it was a part of NPR's 'Our Daily Breather' which is a segment on their website where they interview different artists. I had a DM from a follower that said, "Tori just did an interview with NPR and she mentions you and your book!' My eyebrows raised and my heart skipped a few beets. Is this a joke? Did Tori really mention me in an interview?
I quickly googled 'Tori Amos NPR vegan' and the article came up. As I read through the words, tears starting streaming down my face. Here's an excerpt from the interview:
"Tonight we'll be having a vegan stew that I am calling mushroom magic. This is an experiment; we'll see if the gang likes it. Many of the vegan dishes that I love are from Timothy Pakron whose cookbook Mississippi Vegan is always in the kitchen. His vegan creole "potato salad" is glorious.
Yes, during these times some of the spices he uses might not be in your kitchen, but substitutions can work with his amazing inspirations. He has a knack for just jam packing flavor, whether it's in his Southern "succotash stew" or his "mama's rosemary white bean soup." He also puts up recipes on his site and hopefully, his magic will make someone smile during these very challenging times."
-Tori Amos
(Read the full interview here.)
As you can imagine, I was in shock. I kept reloading the article to make sure I was reading things correctly. As the reality set in, I was engulfed by an intense surge of excitement, joy, and pure disbelief. A feeling that overwhelmed me to the max, making my heart melt and my skin tingle. Tori Amos has my cookbook in her kitchen? She makes my recipes and enjoys them? Tori Amos visits the very blog you are reading now? I couldn't handle it.
Earlier this month, Tori was interviewed by Rolling Stone and she mentioned my potato salad again! This time the interview was talking about her favorite things and she expressed that my potato salad was one of the most interesting things she learned to make during quarantine. I had to pinch myself!
If you're reading this far down, I hope that you understand why I had to fill you in on everything. I had to tell you my story so that you could understand how very important this is to me. The fact that my creative work has entered into the home of Tori and into her kitchen is a major and important moment of my career. It is profound. I feel as though it is the universe telling me that I am exactly where I need to be. I am doing exactly what I was put on this earth to do. And I must keep going.

Tori, if you're reading this:
I want to say thank you. Thank you for sharing your work with the world. Thank you for teaching me how to believe in myself. And thank you for teaching me how to be an artist. You will forever be a part of my life.
That said, I want you to know that you are a part of Mississippi Vegan. You are a part of my photography, my writing, and my recipes. The next time you are flipping through the pages of my cookbook, I want you to know you are one of the reasons why they exist. In honor of you, I am officially changing the name of my 'Creole Potato Salad' to 'Tori's Potato Salad' and I am sharing it with the world as a thank you for everything you've done for me. I hope that this offering can touch your heart, just as you have touched mine. Sending you all of my love.
Timothy
UPDATE! June 20, 2023
I was invited to go backstage to meet Tori after her performance in New Orleans! When I walked into the room, she welcomed me with a warm smile and told me that my cookbook helped her get through the pandemic. She said she loved my potato salad and the rosemary white beans!

I told her that she taught me how to express myself and that she inspires me to be the artist that I am today and that the book wouldn't exist without her.

To all the artists out there, I hope that this can inspire you while working on different projects. The creative energy that you put into your work can be very powerful. It can connect you to experiences that may only seem possible in your wildest dreams.

Lots of love, t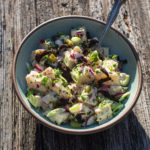 Ingredients
8 cups peeled and cubed (1-inch) russet potatoes (about 2 pounds)
1.5 tablespoons sea salt
2 tablespoons sugar
2 tablespoons rice vinegar
1 tablespoon olive oil

Dressing

1 cup vegan mayo
3 tablespoons Dijon mustard
3 tablespoons fresh lemon juice
3 tablespoons nutritional yeast
1 garlic clove, finely minced
2 teaspoons tamari or coconut aminos
1 teaspoon sugar
1⁄2 teaspoon freshly cracked black pepper
1⁄2 teaspoon crushed red pepper flakes
1⁄4 teaspoon cayenne pepper
1⁄4 teaspoon sweet paprika
Sea salt, to taste
1⁄2 cup chopped celery
1⁄4 cup diced carrots, plus more for garnish
1⁄4 cup diced red onion, plus more for garnish
3 tablespoons thinly sliced green onion, plus more to garnish

Optional Toppings

Chopped fresh parsley
Tofu Bacon, chopped into bits
Shiitake Bacon (from my cookbook)
Radish, diced 
Instructions
1. Prepare the potatoes: Fill a large pot with water. Add the potatoes, salt, sugar, and vinegar to the pot, cover, and bring to a boil. Boil until the potatoes are fork-tender, about 20 minutes. You want them to keep their shape, so don't overcook them. Drain the potatoes in a colander and run cold water over them. Toss them in a serving bowl with the olive oil. Cover loosely and place in the fridge to cool thoroughly. If the potatoes are not completely cool, the dressing will break and become oily. No, ma'am!

2. Make the dressing: In a bowl, whisk together the mayo, mustard, lemon juice, nutritional yeast, garlic, tamari, sugar, black pepper, pepper flakes, cayenne, paprika, and sea salt to taste. Set aside.

3. Once the potatoes have cooled, add the celery, carrots, red onion, green onion, and desired amount of dressing (I use it all!). Gently fold everything together. Add more salt as needed. Garnish with a sprinkling of the diced carrots and red onions, sliced green onions, and chopped parsley. Lastly, and this is optional, add as much shiitake bacon (or Tofu Bacon) as you can fit on top and serve.