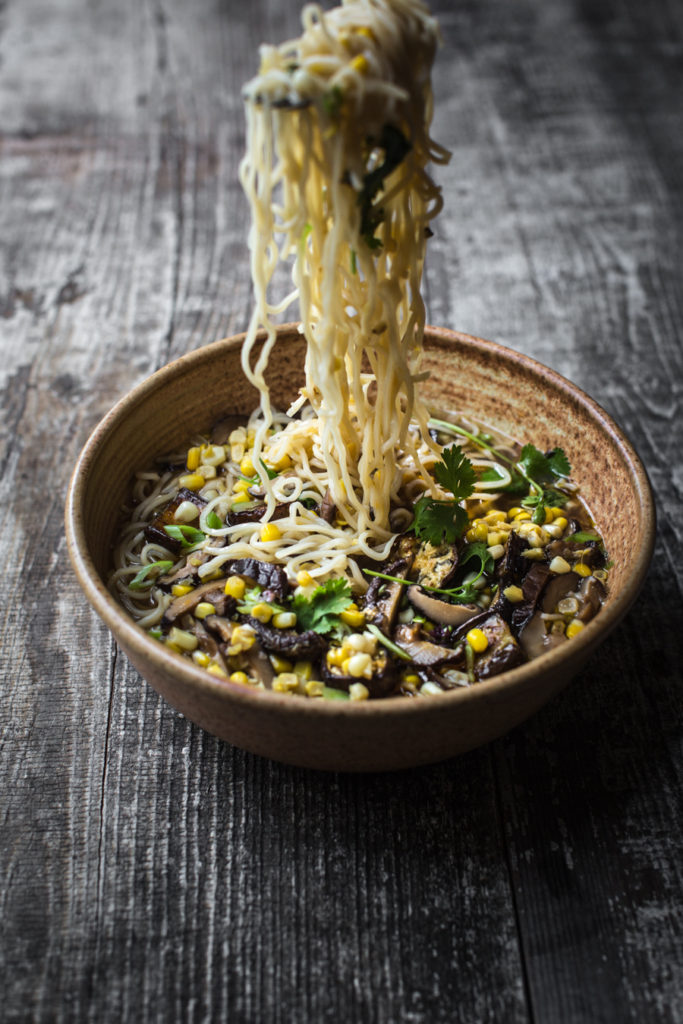 Corn is in season right now and I am absolutely here for it! I love, love, love this juicy sweet vegetable. Or is it a grain? (Quick google search: it's actually both.) Whether it be eaten off the cob, grilled, or, my favorite, used in a brothy soup of some kind, I simply adore it. Which brings me to the recipe I am about to share with all of you: my corn ramen.
This corn ramen is bursting with flavor that is layered and complex. Using a powerhouse combination of herbs and spices, dried shiitake mushrooms (umami bombs!) and a delightful mix of textures, you are left with big results. Of course, if you'd like, you could easily remove the ramen noodles from this to make the dish more vegetable heavy. But I tell you what, slurping up a big squiggly cluster of these noodles drenched in broth with tender pieces of roasted eggplant, plump corn kernels, and savory shiitake mushroom slices- it's pretty fantastic.
First Up
Fresh corn! I'm talking unshucked and whole. You can usually find this at the grocery store but I beg of you to find it at your local farmers market. It will have been picked more recently and therefore more fresh and more sweet. I love this bi-colored variation you see here. If you can only find pre-shucked corn, that's ok. Sadly, you cannot use frozen, as you will need the cobs for the stalk.
Eggplant
As for the eggplant, I like to use Thai eggplant, or any long and thin variety. This makes it easier to cut the eggplant into bite-size pieces and I quite like that every piece has some skin for pops of color in the final dish. You can also add fresh chunks of summer squash or zucchini if you're in the mood.
What I love most about corn cob broths is the buttery flavor that is achieved. The cobs have a milky liquid that is full of deliciousness and by boiling them, this flavor is extracted making for a very robust broth. This in combination with dried shiitakes provides another layer of savoriness and butteriness. I like to add a jalepeno for a kick. Because this recipe makes a large batch, I find the spice to be perfect for my taste (and everyone that tried it!). If you are not keen on spicy, you can simply leave it out. But I would at least add a small piece!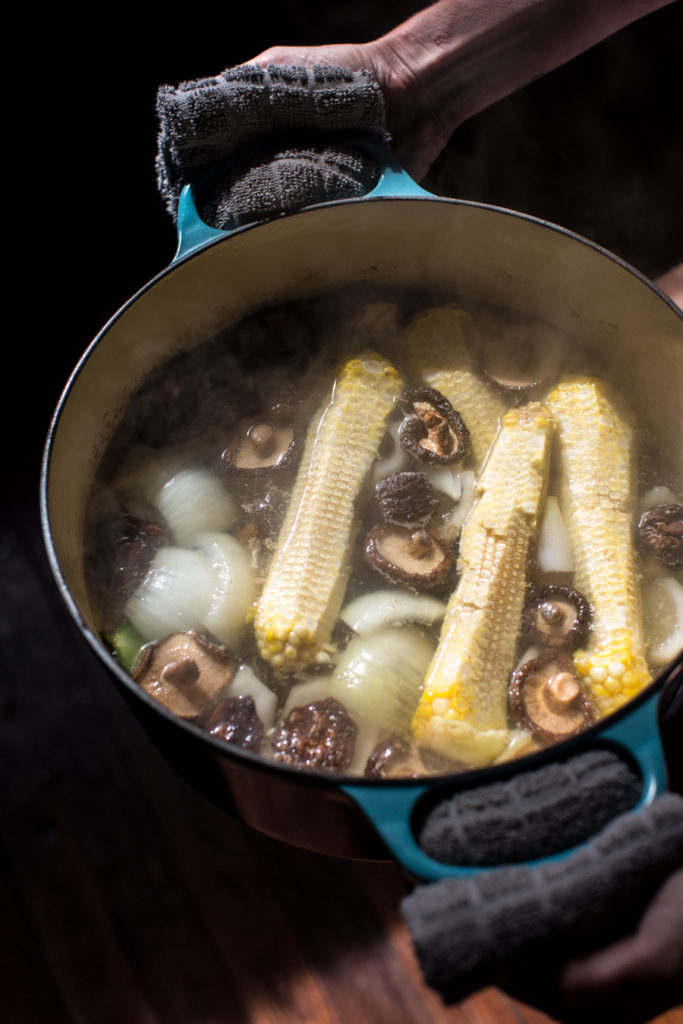 While the broth is cooking, you can work on roasting the eggplant. The first time I had eggplant like this was at a Thai restaurant in Charleston, SC called Basil. I would order the green curry (which to this day is one of the best I have ever had) and they would serve it with chunks of eggplant that would melt in your mouth. Literally! I had to get to the bottom of it.
Roast
To be honest, I think eggplant gets a bad rap because if it's not cooked properly, it becomes spongy in texture and not desirable. Yet, it is still served this way at restaurants! Yikes. When I finally did ask Basil what the trick was with their eggplant, they said, "We fry it." Well duh! Of course it's good after you fry it! Luckily, you can achieve the same texture if you coat the pieces with a good amount of oil and roast them in the oven. Once caramelized, they turn golden brown and oh so succulent, with a sweet and earthy flavor- perfect for ramen.


Next up, you're going to lightly fry a ridiculous amount of fresh garlic and ginger until fragrant and golden, providing a gorgeous richness. Then you combine the fresh corn kernels and sliced shiitake mushrooms. Both of these will bulk up the ramen with color, flavor, and texture. Not to mention your house will smell outrageously good during this step.
Lastly
Add the noodles and serve! Garnish each bowl with fresh cilantro and sliced green onions and you are good to go! I definitely think it's important to invest in some nice deep bowls and large soup spoons for dishes like this.
Thanks!
I hope you enjoy this corn ramen recipe as much as I do! Overall, it's a very simple recipe from start to finish with a fair amount of prep work. Luckily, the soup stores well in the fridge for leftovers so you could make this on the weekend and have some for the week. If you do make this recipe, please leave a review at the bottom of the page and tag me on Instagram… I wanna see!
-Timothy
Ingredients
1 oz dried shiitake mushrooms
1 piece dried kombu
4 fresh ears of corn, shucked and tassel removed
1 medium yellow onion, peeled and quartered
½ teaspoon black peppercorns
1 jalapeno, sliced in half (optional)
4 – 5 Japanese eggplants (long magenta variety), cut into rounds or half moons (think bite-sized)
¼ cup avocado oil or sunflower oil
1 teaspoon salt
3 oz knob of ginger, peeled and minced (about ½ a cup)
1 head of garlic, peeled and minced (about ¼ cup)
2 tablespoons mirin (rice cooking wine)
1 ½ teaspoons sea salt
3 tablespoons tamari
2 teaspoons rice vinegar
2 green onions, thinly sliced
8 oz ramen noodles
Chili oil and fresh chopped cilantro, for garnish
Instructions
Using a sharp knife cut corn kernels off the cob into a bowl or on a large cutting board (cut away from you!). Set corn kernels aside.

Place corn cobs along with the dried shiitake mushrooms and kombu into a large pot. Add 12 cups of water, onion, black peppercorns and jalapeno. Cover and bring to a boil. Once boiling, reduce heat to medium low, crack lid and simmer for 35-45 minutes.

Pre-heat oven to 375 degrees F and line a baking sheet with parchment paper.

Toss eggplant rounds with avocado oil (or sunflower) and salt.  Lay out on parchment paper making sure half moon pieces are face down. Roast for 40 minutes until bottoms are caramelized.

Strain broth through a fine mesh sieve into a large bowl, set aside mushrooms and discard other ingredients. Add mirin, salt, tamari and rice vinegar to broth. Once mushrooms are cooled, slice into thin strips.

Wipe out the bottom of the pot, drizzle in a good bit of oil (2 tablespoons) and lightly fry minced garlic and ginger over medium high heat. Stir constantly so it doesn't burn.  Once browned, add corn kernels and sliced mushrooms, season with salt. Cook for 5 minutes, stirring often. Add broth and bring to a boil. Cook for 5 minutes, stirring every so often. Reduce to low heat and cover with lid until ready to serve.

Cook ramen noodles according to package. Drain and add to broth. Spoon into bowls, top with eggplant pieces, green onion and cilantro. Drizzle with chili oil, if desired.
notes
Multi-tasking tips: While the broth is steeping, you can prep and roast eggplant. While eggplant is roasting, you can cut and prep garlic and ginger. 

Feel free to add other chopped vegetables like summer squash, sliced peppers or roasted butternut squash. Fresh Thai basil and a squeeze of fresh lime juice would also be fantastic in this!

Feel free to set aside some of the broth in the freezer! That way, you can make ramen at some other time with less work. It will last in the freezer for a couple of months.