Did you know that you can make the most amazing vegan pepperoni from trumpet mushrooms? It's true! And on today's blog post, I am going to show you step-by-step how to make it.
These pepperoni slices come together quickly and are bursting with flavor. When a powerful marinade is combined with the meaty texture of trumpet mushrooms, the right amount of fat, and cooked to perfection- you will be amazed with the final results!
PANTRY-FRIENDLY INGREDIENTS
Now I know the ingredient list may look long, but most everything on the list is pantry-friendly. The only think you'll need to pick up is some fresh trumpet mushrooms. This pepperoni is delicious on its own, topped over pizza, stuffed into calzones, or even tossed with some pasta. At the end of this post, I will also show you another way I like to use them.
---
---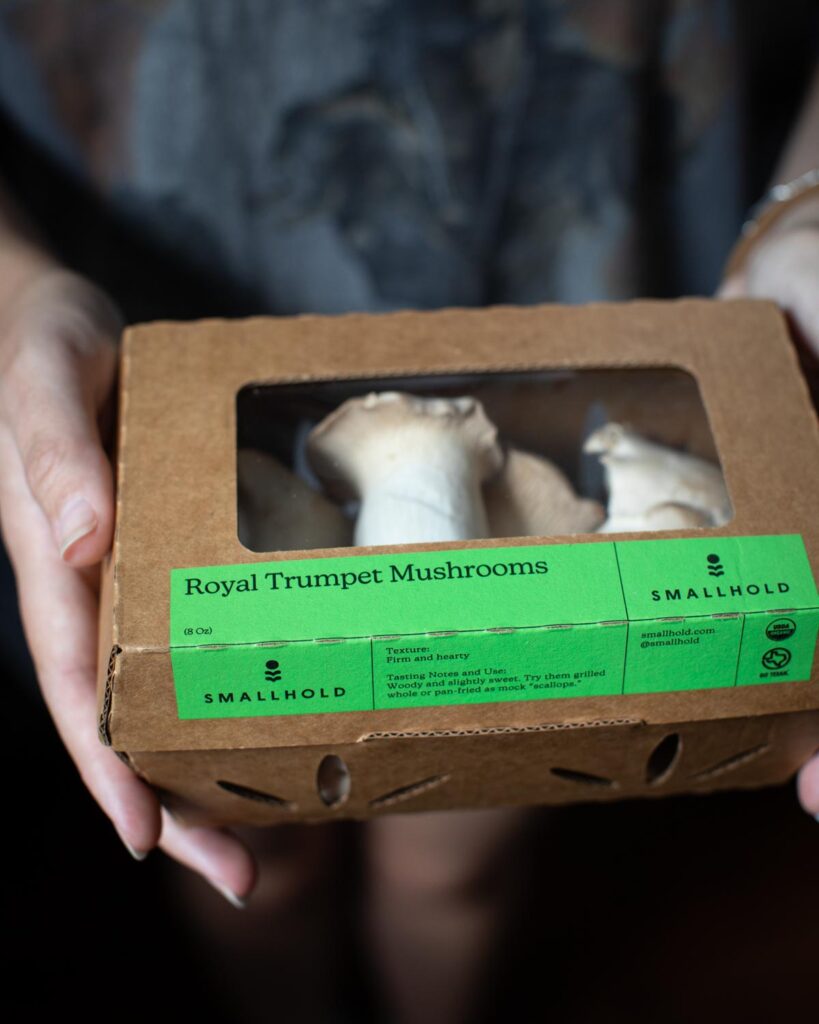 THANK YOU SMALLHOLD
Before we dive into the recipe, I wanted to take a moment to talk about the sponsor of this post: Smallhold! This company offers the most amazing varieties of organic mushrooms that you can find at your local Whole Foods. When they reached out to see if I wanted to team up with them, I was very excited because I literally eat their mooshies at least once a week and have been for years now! I knew it would be a perfect partnership.
I especially love this company because of their mission statement. Here is an excerpt from their website:
'Mushrooms were here long before us, and they'll be around long after us. They are the ultimate connectors. We take inspiration from them daily.

To that end, we strive for circularity in everything we do—particularly our farming practices.

We grow mushrooms on substrate that is primarily made of sawdust, which just so happens to be a waste byproduct of the lumber industry. One person's trash is another person's mushrooms.

After mushrooms are harvested and hand packed into our home compostable packaging, 100% of our spent substrate is either composted or redistributed to our communities.'
Now how cool is that?
I love what this company is doing and y'all know how much I love me some mushrooms! Here's a BIG THANKS to Smallhold for sponsoring this post and allowing me to share this recipe with all of you. Definately check out their website- it's beautiful and has loads of interesting information: www.smallhold.com.
RECIPE BREAKDOWN
Ok, now let's talk about the recipe. It's honestly very simple and straight-forward. The mushrooms we will be using are trumpet mushrooms. They work perfectly here because they are easy to slice into the shape of pepperoni and they have a lovely meaty texture. I find their flavor to be nutty, buttery, and umami-rich.
To make sure you have enough mushrooms that can be perfectly sliced into rounds, I recommend buying two packs so you end up with 8 oz of circular pepperoni shapes. (This is coming from a food stylist- you can certainly just use one pack and have some odd shapes that don't look like pepperoni.) Any leftover mushroom tidbits can be used in stir fries, soups, or whatever you'd like.
THE MARINADE
Now for the marinade: this is made up by blending together loads of spices for flavor, oil for fat, tamari or soy sauce for umami, and mustard and red wine vinegar for tang. A little bit of tomato paste and ketchup offer a nice sweetness plus some color.
---
---
MOST IMPORTANT SPICES
The combination of these particular seasonings are what REALLY replicate the taste of pepperoni. Don't even think about skipping one.
Fennel Seeds: these are used in traditional pepperoni and make you think you are eating meat.
Oregano: in particular dried oregano for this recipe. It's a must.
Smoked Paprika: a little bit of smoky spiciness is what we are utilizing with this one.
Clove and Nutmeg: believe it or not, these spices are what really offer that special pepperoni flavor. Once you taste the marinade you'll see exactly what I am talking about.
To make the marinade, you simply throw everything into a small blender and blitz until it's a thick sauce. You can make it completely smooth but I like to keep it kind of chunky so you can see some of the ingredients once the mushrooms are cooked. This is up to you! (If you are wondering what particular spices or ingredients I love to use, check out my 'Shop' page!)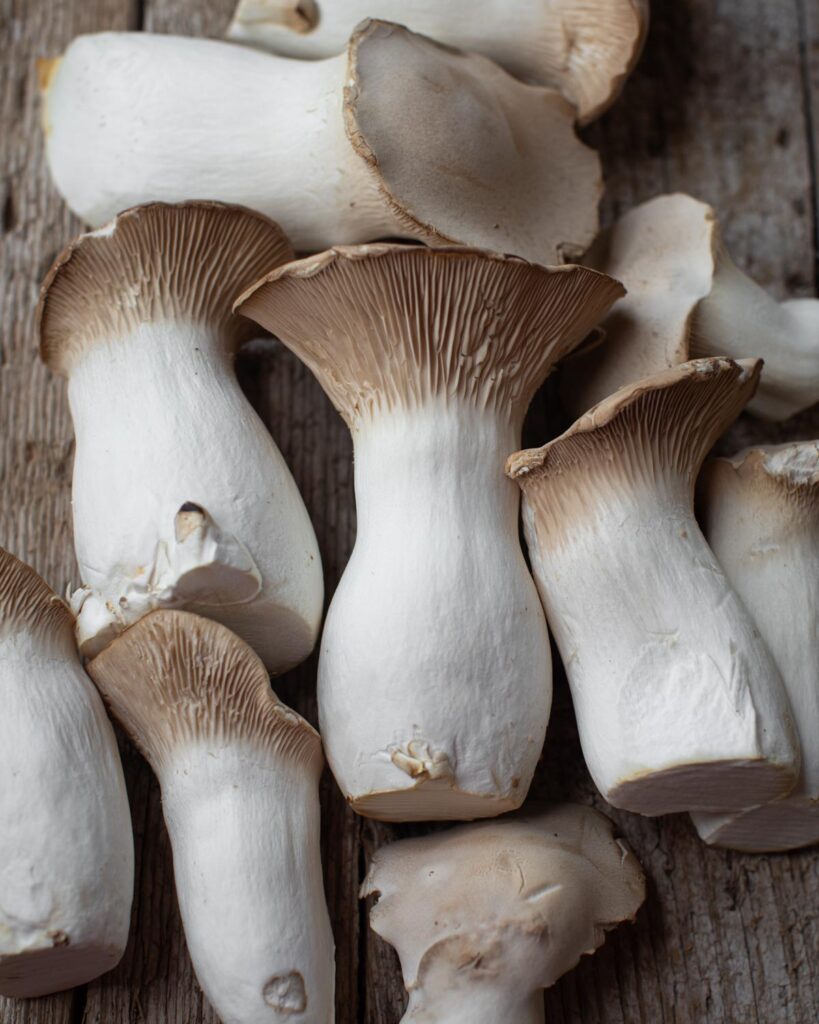 SLICING AND COOKING THE MUSHROOMS
You'll want to slice the mushrooms into rounds that are slightly under 1/4th of an inch thick. I find that once the mushrooms cook down and shrink in size, this results in the best texture. Once sliced, combine them with the marinade in a bowl and mix well. Place them on a parchment lined baking sheet and bake until caramelized and chewy.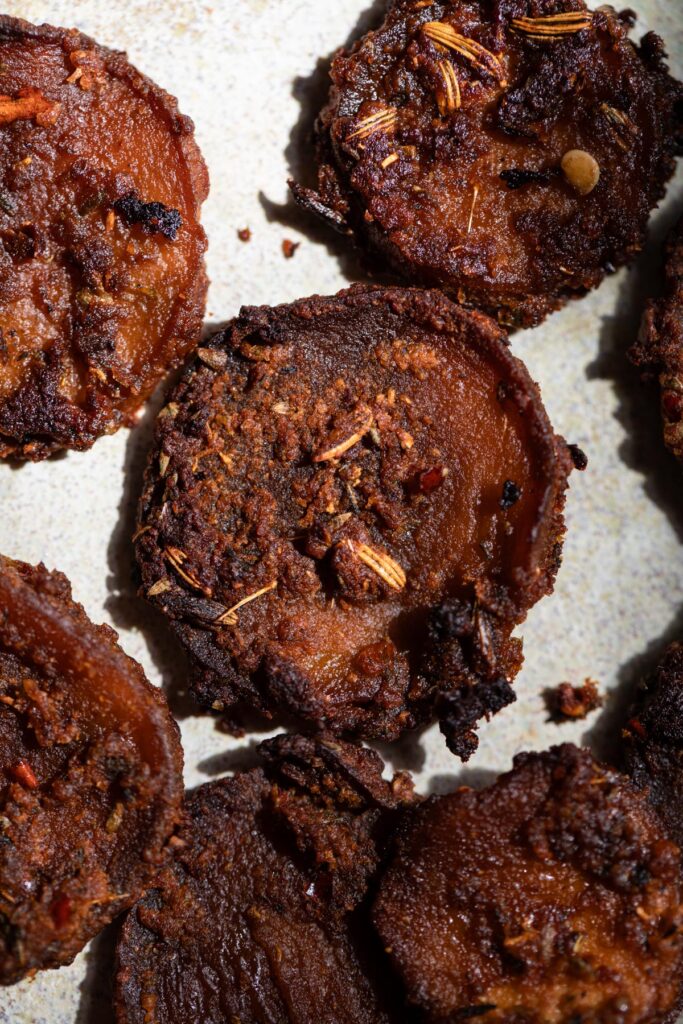 ENJOY THE PEPPERONI
Now that you have the most amazing vegan pepperoni, it's time to decide what you'd like to do with it! I personally ate half the batch standing over the stove and used the other half to make some pizza bites. I'll explain how to make those down below.
I have also used this recipe to make an epic deep dish pizza using my 'Sourdough Focaccia' as the base. And I've used them to incorporate into a calzone which was fantastic. Lastly, I think these would be great served as a garnish to a dip or sprinkled over a creamy pasta dish.
---
---
PIZZA BITES
Here's how I made my pizza bites: First, I sliced up a baguette (the kind that are par-baked are perfect for this so they don't get too crispy) into bite-sized rounds. My inspiration for this was eating bagel bites as a kid just so you know where my head's at! Then I placed them in a large cast iron skillet (or you could use a baking sheet) and I topped each one with some marinara. I sprinkled on some garlic powder, a layer of cheese, added some pepperoni slices and then a final layer of cheese on top. Once baked for 15 minutes at 350°F (or until the cheese was melted) I topped them off with some fresh basil from the garden and let me tell you: they did not last long!
That's all folks! I hope that you try this recipe out because it is truly excellent. If you'd like to see me make this recipe live and in action, make sure to check out my Instagram. If you do make it, please leave a review below, it greatly helps my blog out! And if you post it to Instagram, make sure to tag me so I can see. Thank you for being here and happy cooking!
Timothy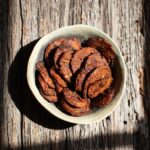 Ingredients
8 oz royal trumpet mushrooms (aka King Oyster)
1 ½ tablespoons nutritional yeast
1 ½ teaspoons fennel seeds
1 teaspoon dried oregano
1 teaspoon smoked paprika
1 teaspoon garlic powder
1 teaspoon dried thyme
½ teaspoon crushed red pepper flakes (optional)
½ teaspoon sea salt
¼ teaspoon chipotle chili powder (or regular)
2 pinches ground clove
2 pinches ground nutmeg
2 pinches cumin
1 tablespoon whole grain or dijon mustard 
1 tablespoon tomato paste
1 tablespoon tamari 
1 tablespoon ketchup
½ teaspoon liquid smoke
¼ cup plus 1 tablespoon vegetable oil
2 tablespoons red wine vinegar
Instructions
Preheat oven to 350°F and line a large baking sheet with parchment paper. 
Slice the mushrooms into rounds that are slightly under ¼ inch thick. Transfer the mushrooms to a mixing bowl and set aside.
To make the marinade, combine the remaining ingredients into a small blender. Blitz until thick and creamy.
Pour the marinade over the mushrooms and mix well. 
Lay the mushroom slices into a single layer onto the baking sheet, leaving some room in between. 
Bake for 20 minutes. Flip the pieces with a thin spatula and return back to the oven, rotating the pan. Continue to cook for an additional 9 minutes (remember every oven is different so cooking times will vary- keep an eye on them!) After 9 minutes, if any of the thinner or smaller slices seem done, remove them and set aside. 
Place the thicker/larger slices back into the oven and continue to cook them for an additional 4-5 minutes. The slices should look dark, caramelized, and crispy and should not be flimsy when you pick them up. Continue to cook them until this is achieved. 
notes
The slices will be delicious if they are undercooked but if you can get them to the right crispiness, they are outstanding! Try to push them as far as you think they can go without burning them. 

This recipe does have a kick in the heat department so I made the crushed red pepper flakes optional! Only use those if you like spicy.