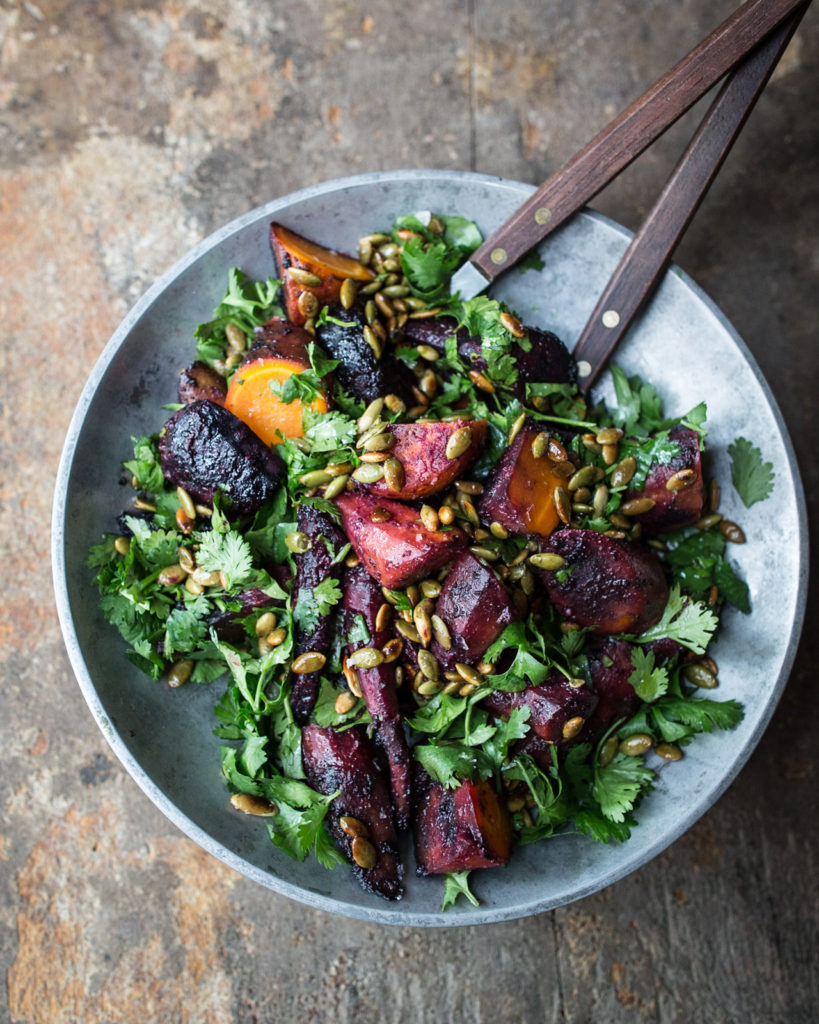 Hey y'all! I am so excited to share this super simple and delicious recipe with all of you. Coriander Carrots! And just in time for Thanksgiving! These coriander carrots are bright, refreshing, and they have a nice crunch from toasted pumpkin seeds. Loads of fresh cilantro pair nicely with the succulent carrots that are infused with ground coriander and cumin, while tangy lime juice provides a beautiful punch of acidity that brings the whole dish together. This might be a bit non-traditional, but I think it's good to have some fun veggie sides to make things exciting while also offering a nice pop of color to the table. (It's all about the contrast.) This recipe also comes together very quickly and easily.
A little trick with toasting pumpkin seeds is to add a little bit of vegetable oil to the pan. This helps to lightly fry the seeds and I think it makes them even crispier and delicious than dry toasting them. Don't forget to season well with salt and pepper. These will garnish the carrots so we want them to be flavorful.
As for the carrots, I like to cut them into big beautiful chunks around the same size so that they cook evenly. Then you toss them into a skillet or baking dish and add loads of spices like ground coriander, cumin, garlic powder, and black pepper, a good drizzling of olive oil, and some tamari and nutritional yeast for umami. One important step is to add some water. This will help to steam the carrots so they become tender and juicy while baking. To finish, mix with a very large amount of fresh cilantro and those delicious toasted pumpkin seeds we already talked about!
Here's a little snapshot my assistant got of me while we were working on this recipe. These carrots were very special because I grew them. Isn't that fabulous? I hope that you all enjoy this quick and easy recipe. Let me know what you think!
Happy Holidays!
Timothy
Ingredients
2 lbs carrots, peeled and cut into large chunks
1 ½ tablespoons ground coriander
½ tablespoon ground cumin
1 tablespoon garlic powder
1 tablespoon nutritional yeast
½ teaspoon freshly cracked black pepper
¼ teaspoon Szechuan peppercorns (optional)
2 tablespoons tamari or soy sauce, plus more to taste
2 tablespoon rice vinegar
4 tablespoons olive oil
1 teaspoon salt, plus more to taste
1 cup spring water (or filtered)

Garnish

½ cup raw pumpkin seeds
Salt and pepper, to taste
1 tablespoon olive oil or vegetable oil
1 bunch cilantro, rinsed, drained, and roughly chopped (about 2 cups)
1 large juicy lime (or 2 small - at least 2 heaping tablespoons of juice)
Flaky salt (optional)
Instructions
Preheat oven to 375 degrees F.

Add carrots to a large cast iron skillet or baking dish. Add the remaining ingredients (except the garnishes). Toss and mix well, until thoroughly coated. Bake for 30 minutes. Give them a taste and adjust the salt to your liking. Toss and continue to bake for an additional 15 minutes, until fork tender and succulent.

While the carrots finish baking, toast the pumpkin seeds in a pan with oil, salt and pepper over medium-high heat. Mix often and cook until golden brown. Set aside to cool.

Once the carrots are done, plate them with the cilantro and toasted pumpkin seeds (and some flaky salt if you got it!). Squeeze over lime juice and serve. This dish is also delicious served cold after it marinates in the fridge.
notes
If you do not like coriander/cilantro, you can swap out the ground coriander for 1.5 tablespoons of dried rosemary, oregano, or thyme. Instead of using fresh cilantro, try using freshly chopped parsley, dill, or mint.